The Arcanist is a highly-anticipated new class for
Final Fantasy XIV: A Realm Reborn
. From what we have learned about the two off-branching jobs to choose from, the Summoner and the Scholar, offer very different, yet both exciting, gameplay options: the Summoner focusing on pets and dealing damage, whereas the Scholar focuses on support and healing.
Each Arcanist, however, will apparently be able to summon their pet Carbuncle.
The Carbuncle has been a regularly occuring summon in the Final Fantasy series for decades, starting all the way back with Final Fantasy V. Typically portrayed as a cute little creature with a gem on its forehead, it doesnít usually deal damage, and instead focuses on casting support spells, such as Protect. For more information regarding Carbuncle and its history in the Final Fantasy series, EoFFís own Summon of the Month series
recently highlighted Carbuncle
.
In FFXIV, the pet Carbuncle will apparently have two different forms, with each focusing on different types of actions. ARRís developers just released
screenshots of the two forms
: the Emerald and Topaz Carbuncles.
It's said that the Emerald Carbuncle is only so-named because Yoshi-P hated the alliteration of ďBaby Blue Carbuncle.Ē
Well that or he may be colorblind.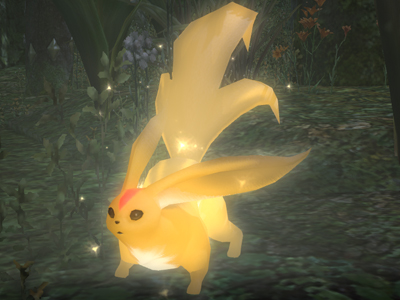 The Topaz Carbuncle, whose main ability is apparently locating nearly naked women (see above).
No other information has been released about Carbuncle or its different forms, but this will certainly help stoke the excitement for the release of ARR and the availability of the Arcanist class (which is only about a month away!).
What do you think of Carbuncle in FFXIV, or the FF series as a whole? What do you think its abilities will be, and how will they differ between the Emerald and Topaz? And most importantly, in what bizzaro universe is
that
emerald?