Lightning's invasion of Eorzea is almost complete. The crossover between
Final Fantasy XIV: A Realm Reborn
and
Lightning Returns: Final Fantasy XIII
has been
well-established
at this point. It had been previously announced that Lightning would
actually be appearing in FFXIV
, though the details of that were not confirmed yet.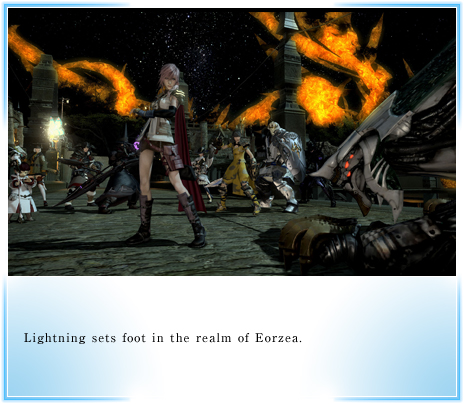 Lightning will appear as part of a FATE, or Full Active Time Event.
FATEs
are randomly- or intentionally-triggered events that involve nearby players who want to participate having to tackle a scenario, which can involve anything from one giant monster to repeated, large-scale invasions. In one such FATE, Lightning will make an appearance, and FFXIV players will have the opportunity to fight alongside her!
The reward for successfully completing the event is the
previously-announced
Lighting Returns-styled weapons and gear, which will allow players to outfit their characters like Lightning and Snow.
What do you think of Lightning in Eorzea? What do you think the FATE will involve? Are there any other Final Fantasy characters you hope to see in future events? Share your thoughts in the comments.
[Source:
http://na.finalfantasyxiv.com/alliance/collabo/]