January 5-January 14, 2013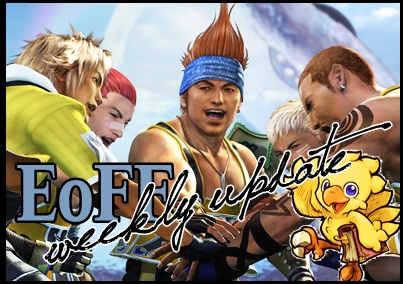 A very happy birthday to Chris!


Hello, EoFF! Can you believe we are already two weeks into the new year? I hope everyone is keeping up their resolutions (like my resolution to make the Weekly Update on time...ha!

) and getting along now that we're in the non-holiday winter months (read: Season Affective Disorder time).
Despite things quieting down around town, we've got plenty of things on the forum to keep us busy and active!

General Chat is all abuzz with events this week! Go
check out shion's Cutest Pet event!
We're currently in the voting round, so vote on who is your favorite puppy, kitty, or other! Also
don't forget to sign up for Shiny's EoFF Charades!
Any event where we get to embarrass other members? Wonderful!

The Man continues Eyes on You with Lone Wolf Leonhart this week!
Go ask my co-host all sorts of inappropriate and intrusive questions about his life!

EoEO is asking the hard questions this week. Go join the discussion on
Feminism
,
Space Colonization
, and
Capital Punishment
.

ToriJ has made it his goal to completely take over
The Lounge!
Swing on over and join in on one of the many movie discussions! While you're there, make sure to
update your Media Log for 2013
. Del Murder will be creating a Media Log for 2014 this week, so if you want to add any last changes, now is the time!

Citizen Bleys' run of Mafia ended today!
Check out the thread
to see the scummy dealings and to see the behind-the-scenes discussions from Mafia, The Graveyard, and Bleys' own personal forum for the game. While you're in
Wonder Square
checking out the game, make sure to say hello to any and all of our new members!