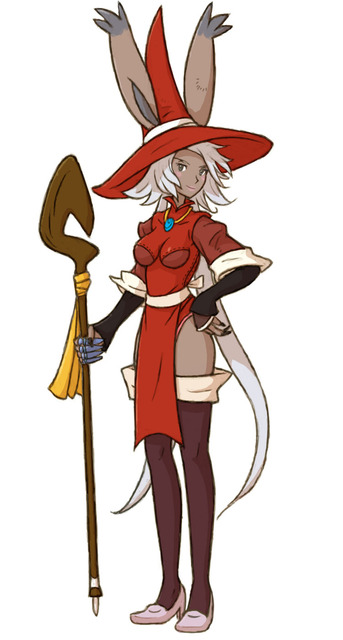 Some people have great strengths. Others have great weaknesses. But what about those in the middle? What if you want a taste of everything? Ladies and gentlemen, I'm here to tell you that you
can
have it all. Red Mages can have their cake and eat it too! They bring everything to the table. A mix of white magic, black magic, and physical prowess. On top of that, they can equip swords and armor that the contrasting black and white mages can not.
You might be saying to yourself, "Well that sounds great! It doesn't sound like there's a reason to choose any other class!". Well, there is a catch. Some would say you can either be great at one thing, or just good at many things. This is true for Red Mages. While they do have a big mix of magic and physical skills, they cannot cast high level magic or wear most pieces of heavy armor. This class is all about balance. Never the less, they are still a great class.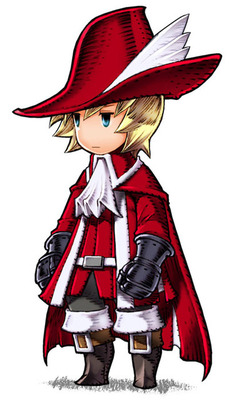 "The Red Mage is a well-rounded spell caster whose repertoire can include a balance of both black and white magic." - Dawn of Souls, Instructions
It's worth pointing out that despite the classes popularity, there's never really been a main character in the Final Fantasy series who was a Red Mage! Most of the time they've either been Non Player Characters, Secondary Characters, or as our next paragraph will show you, "Choose your character!"
The Red Mage made its first appearance in the original Final Fantasy, in which it is given as one of the options presented to you to choose as one of your four heroes of light. Despite the Red Mages not being able to use third-tier level magic in most games in the series, the original Final Fantasy is an exception to this rule. Given their attire, it's almost fitting that Firaga is a spell they should acquire. It certainly helps that later in the game you get the chance to upgrade to the Red Wizard, but that's another article for another time
The Red Mage is also seen in many other Final Fantasy games as a job class which can be created or obtained. In Final Fantasy III, this job class is gained from the Wind Crystal. In the opening FMV of the DS/iOS remakes of FF III, Ingus is shown in Red Mage attire.
In Final Fantasy V, you obtain this job class after the Water Crystal in Walse Tower is destroyed. This game is the first entry in the series which grants you the "Dualcast" ability, which allows a character to cast two spells in one turn. In this game it's exclusive to the Red Mage, making it quite handy indeed!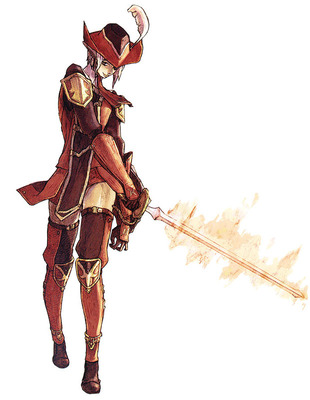 Final Fantasy XI gives online players their day in the sun as Red Mages. Unfortunately I haven't picked this game up yet, but I've heard that Red Mages are great for their buffing and debuffing spells, as well as their reduced casting times. An Elvaan Red Mage by the name of Rainemard was murdered before the start of the game, and you can undertake quests to investigate the mystery of his murder.
You're able to play as a Red Mage in Final Fantasy Tactics Advance after mastering one Fencer Skill. In this game, with the exception of Ritz Malheur, the class is exclusive to the Viera race. Their weapon of choice is a Rapier, so don't count them out if you silence them!
The great thing about a class which can "do it all" is that they are able to compensate for weaknesses if you inflict them with a status ailment. Cast darkness over their eyes? They still have magic. Cast silence on them? They still have their physical attacks. A good ally and a nice supply of items can fix them up in the off chance multiple status ailments are inflicted on them, but that goes for any class really. You can't keep the Red Mages down!
The Red Mage class in other Final Fantasy titles:
-Scott in Final Fantasy II, a prince of Kashuan and elder brother of Gordon, has red armor and basic magic and physical abilities
-Red Mages are my favorite looking NPCs in FFIX. They can be seen around Lindblum and Treno, as well as the pub in Alexandria
-in Final Fantasy XII International, Red Mages are the only class who can use Arcane Magick, and are represented by the Zodiac sign of Cancer
-Shar in Final Fantasy Legend III fits the mold of Red Mage
-Julius from Final Fantasy Adventure disguises himself as a Red Mage early on in the game
-The Red Mage plays a role as a job card in the Dissidia games
-The Red Mage also makes minor appearances in other titles such as the Crystal Chronicle series, Bravely Default: Flying Fairy, FF Dimensions, FF Airborne Brigade, and FF All the Bravest
-The Red Mage also appears in the Final Fantasy Trading Card Game
Whatever class you enjoy playing as, you might find a little piece of them in the Red Mage class. If anything they are certainly versatile! Hopefully you've enjoyed this brief look at our red cloaked allies. As always, special thanks to you guys for reading my articles and taking the time to leave nice comments and encouragement. Believe me they do not go unappreciated.
Any questions or comments? Any games I might have missed? What are your favorite Red Mages in the series? Let's talk in the comments section!
See the other entries in this series:
A Brief History of Dragoons
A Brief History of Berserkers
A Brief History of Thieves