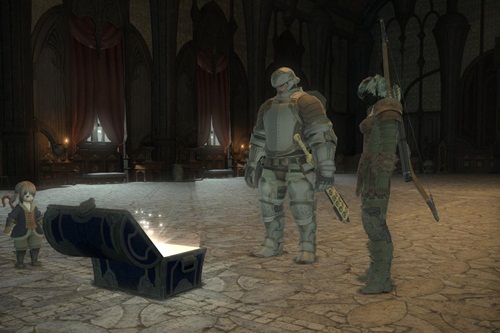 "Is it Final Fantasy XIV?" "No, it's just a chest full of gold." "Damn."
Final Fantasy XIV: A Realm Reborn
producer Naoki Yoshida has released his 43rd Letter from the Producer. These are certainly coming at a
furious
pace
now, with the
next Live Letter
even due next Friday. Which is good for us, because that means more juicy info!
As we
already announced
, the beta version of FFXIV will begin on February 25th. Yoshi-P admitted that this is about a week behind the
original roadmap schedule
, but I'm sure we'll be able to survive that extra week (maybe). Yoshi-P promised that the extra time has allowed them to prepare even more content for beta testers to play around with.
Just like with the alpha, FFXIV's beta will be limited to the areas around Gridania. Main scenario quests will be available starting in phase 1, but they will be limited, as later quests involve traveling to other areas after level 15. Side quests will also be limited, as they are designed to follow the main scenario. The upshot is it may be a bit difficult to level up after hitting 15, but there will be plenty of new things to play around with.
Speaking of
new content
, Yoshi-P discussed some other content that will be newly available for the beta version. One such new system is the Full Active Time Events (FATE), which appear randomly throughout the world in non-instanced areas. They seem to simply involve giant monsters or other enemies suddenly appearing and the nearby players having to vanquish them. Players can be involved in these FATEs just by being nearby when one starts; there's no requirement for the participants to form parties. Rewards for these events will be automatically distributed once the foes are dealt with. Here are some screenshots of FATEs from the beta development: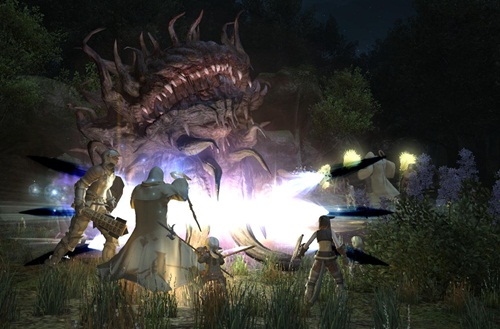 Fighting off a Marlboro.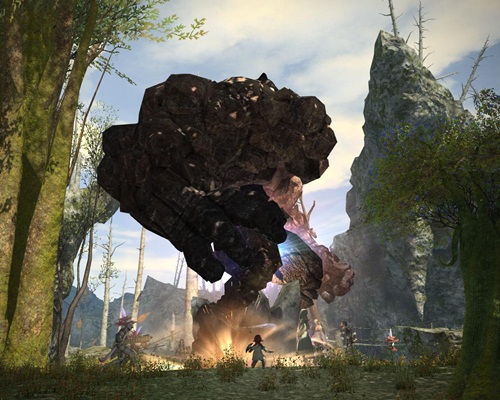 I have no idea what that thing is, but it is big and ugly.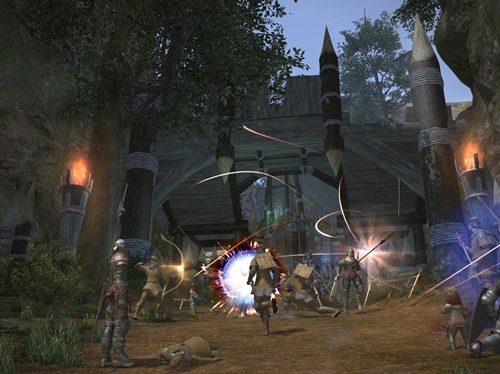 This one appears to have multiple foes.
Other new content will also be available. The behest system from FFXIV 1.0, which involved monster-fighting quests that started regularly at certain aetheryte camps, has been completely revamped and is now called the guildhest system. Yoshi-P cautioned that adjustments are still being made and so guildhests may not be available at the beginning of phase 1, but they are due in the near future.
Another piece of new content is a new instanced dungeon designed for level 30 players. Yoshi-P included a few screenshots which may or may not be related to that dungeon:
An imposing building to come up to at night.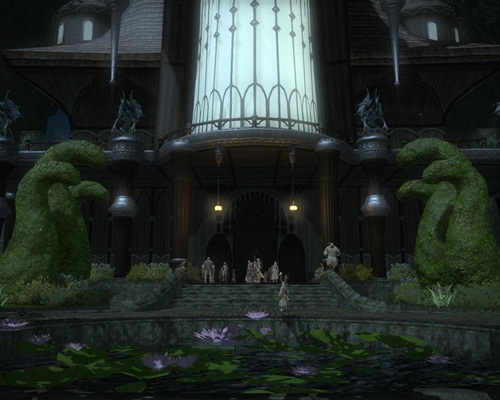 Who the hell trims bushes like that?
Check out the lighting effects and the environment details.
The media tour is still underway, the next Live Letter starts in one week, and the beta version is released the following Monday. It's an exciting time to be an FFXIV fan!
[Source:
Letter from the Producer, XLIII (02/15/2013)
]