Unless you happen to celebrate your birthday on March 21st it may seem like any other day of the year to you. But, did you know that it's actually the birthday of one of the most famous names attributed to the Final Fantasy franchise? The man responsible for composing countless hours of moving scores and invoking melodies. That's right; today is the birthday of Nobuo Uematsu! He's still young at age 54.
For this very special edition of Eyes on Final Fantasy Soundtracks let us take a trip down memory lane and reflect on Nobuo Uematsu's life so far.

After all, just look at what a handsome fellow he is!
Born March 21st, 1959 in Kochi, Japan - Uematsu is, believe it or not, a self-taught musician. His adventure in music started when he began playing the piano at the young age of twelve without the aid of any formal lessons drawing motivation from his elder sister who played the piano and inspiration from a performance by the Vienna Boy's Choir.
The style of Uematsu's pieces is incredibly diverse. Ranging from classical symphonic pieces and Heavy Metal right the way through to New Age and Electronica. His Final Fantasy scores alone range from dark and angry to upbeat or even melancholic. This can even happen within one title itself - just look at the wide array of styles used in the score of
Final Fantasy VI
for example!
Interestingly, Uematsu states that his
biggest musical inspiration was Elton John
and he actually wanted to be like him! However, just like his music, his inspirates are just as varied. From the Jimi Hendrix song
Purple Haze
that inspired the intro to
One-Winged Angel
to the classical works of Pyotr Ilyich Tchaikovsky. However he states that most of his inspiration usually
comes when walking his dog
, not when listening to other music!
Uematsu's music has gone on to have widespread effects even outside of the video game world.
Liberi Fatali
from
Final Fantasy VIII
was used during the
women's synchronized swimming event at the 2004 Olympic Games
in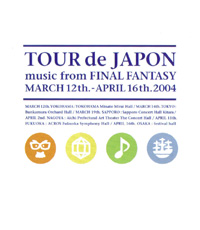 Athens and the memorable song,
Eyes on Me
, from the same game sold a record 400,000 copies and was the first song from a video game to
win an award at the 2000 Japan Gold Disc Awards.
His compositions have also been used in numerous concerts and even paved the way for fully fledged video game music concerts. Outside of Japan Uematsu's music was performed live for the first time during 2003's Symphonic Game Music Concert in Leipzing in Germany. Subsequent concerts in 2004, 2006 and 2007 also featured his music.
In 2004 a concert series called
Tour de Japon - Music from Final Fantasy
took place that toured Japan for a week. This was the first time that Final Fantasy music had officially been on tour though it had also been featured in events such as 1989's
Final Fantasy Symphonic Suite
and 2002's
20020220 - Music From Final Fantasy
one off concert performed by the Tokyo Philharmonic Orchestra. Tour de Japon would set the stage for what would ultimately go on to become a series of worldwide tours called
Distant Worlds: Music from Final Fantasy
through which he would form a long standing friendship with Grammy Award-winning conductor Arnie Roth.
Nobuo certainly made the classiest of entrances at the Tour de Japon. Why not have a listen to the iconic main theme of the series and watch as Nobuo casually walks in and takes over as the conductor!

FINAL FANTASY ~ Main Theme ~ - Tour de Japon
(Watch for Nobuo Uematsu's entrance at 1:25)

But, just where and how did this rise to video game stardom begin?
Any good story of a grass roots rise to fame needs a humble beginning and Nobuo has this well and firmly down. His career started out hopping from one amateur band to another playing the keyboard by night whilst working in a music rental shop by day. Occassionally composing the odd piece of music for television commercials.
Whilst working in this music shop he was approached by a Square employee asking if he'd be interested in creating music for some of the games they were working on. Uematsu accepted (this would be a very short piece if he hadn't!) but he actually considered it a side-job and did not expect it to become a full-time career, let alone a successful one. To him it was just a way of making some extra money on the side. I'm sure we can all learn something from that!
His career with Square started in 1986 when he composed music for a sci-fi RPG title called
Cruise Chaser Blassty
. Never heard of it? You're not alone as it never saw a release outside of Japan.

Lifelong partners in crime
Whilst working there he also bumped into another iconic individual - Hironobu Sakaguchi (if you don't recognise that name, shame on you!), who asked him if he wanted to create music for some of the games he was working on. The rest, you could say, was history... but, things didn't really get off to the most glamorous of starts. From 1986-1987 he composed for a number of titles that didn't really achieve any success such as
Alpha
,
Apple Town Story
and
King's Knight
.
In 1987 Uematsu and Sakaguchi worked together on what was planned to be Sakaguchi's last game at Square. A little title called Final Fantasy.
Final Fantasy was ultimately the catalyst that ignited Uematsu's career in video game music. From that one title he would go on to compose music for over 30 other titles from the subsequent Final Fantasy instalments, the first instalment of the
SaGa
series (known as
The Final Fantasy Legend
outside of Japan) and
Front Mission: Gun Hazard
. He's also fondly remembered for taking over the soundtrack of critically acclaimed
Chrono Trigger
after the original composer, Yasunori Mtisuda (of
Xenogears
and
Shadow Hearts
fame), fell ill. It's almost as if the stars themselves aligned to allow him to bring his flair to that title.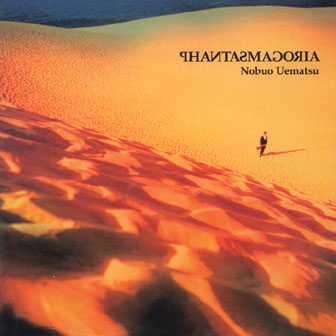 He didn't just limit his talent to video games, though. 1994 saw him release a solo album entitled
Phantasmagoria
with one track going on to be used as background music for the television commerical of
Final Fantasy VI
in Japan. In 2000 he composed the main theme
Ah! My Goddess: The Movie
and co-composed the
Final Fantasy Unlimited
anime in 2001 along with Final Fantasy orchestrator Shinro Hamaguchi.
However, everyone reaches a point in his or her career where burnout or lack of inspiration kicks in and Uematsu was no exception. Due to feeling uninspired and dissatisfied he ultimately requested the assistance of fellow composers Masashi Hamauzu (
SaGa Frontier 2
,
Front Mission: Gun Hazard
) and Junya Nakaon (
Front Mission Alternative
,
Threads of Fate
) to write the score for 2001's
Final Fantasy X
. This marked the first time in the main-series of the franchise that Uematsu did not single handedly compose the soundtrack.
This trend continued with
Final Fantasy XI
in 2002 where the majority of the soundtrack was composed by Naoshi Mizuta (
Street Fighter Alpha
,
Resident Evil 2
,
Parasite Eve II
) and Kumi Tanioka (
Chocobo's Dungeon 2
,
Dice de Chocobo
). Uematsu was only responsible for eleven tracks overall and was a remarkedly small contribution by someone who - up until that point - had defined the audioscape of the series.
2003 saw him take an even reduced role where he assisted Hitoshi Sakimoto in scoring the main theme for
Final Fantasy Tactics Advance
.
However, that period wasn't all gloom and doom.
2002 saw Uematsu collaborate with fellow Square colleagues Kenichiro Fukui and Tsuyoshi to form their own inhouse rock band called
The Black Mages
. Uematsu actually declined the offer at first but after agreeing to one live performance as a keyboardist the performing bug clearly bit him as he agreed to join them in making the band. In 2003 they were joined by Keiji Kawamori, Aratar Hanyuda and Michio Okamiya and have since gone on to release three studio albums and several live performances.
If you've never heard of
The Black Mages
, firstly consider yourself a terrible Final Fantasy fan, then redeem yourself by having a listen to the fantastic Mr. Goo singing the lyrics to the lyrics to the re-arrangement of
To Zanakard
:

The Black Mages - The Skies Above

2004 marked the year when Uematsu's career at Square Enix came to a close due to Square relocating from their office from Meguro to Shinjuku, Tokyo and he wasn't comfortable with the new digs. He also cited that he was reaching the age where he should gradually take his life into hiw own hands. After leaving he setup his own company called Smile Please - but his relation with Square Enix wasn't completely severed. In 2005 he joined forces with The Black Mages again to create the secore for the CGI flick
Final Fantasy VII: Advent Children
. In 2006 he wrote the main theme for
Final Fantasy XII
and was originally offered the job of composing the full score but turned it down in favour of Ivalice expert Hitoshi Sakimoto.
2006 also saw Uematsu create his own music production company called Dog Ear Records. The company would go on to publish several video game soundtracks and original albums both on disc and digitally through iTunes along with live showcase events in the Tokyo area.
Despite being freelance for quite sometime his relationship with Square was going strong. He was also originally planning to write the main theme for 2010's
Final Fantasy XIII
but turned it down after being assigned the task of creating the entire score of
Final Fantasy XIV
. This didn't stop him from working on other projects though - the most notable of which was his continued collaboration with old friend Hironobu Sakaguchi and Sakaguchi's new development studio; Mistwalker. Mistwalker would go on to produce titles such as
Blue Dragon
,
Lost Odyssey
and
The Last Story
- all of which featured scores composed by Uematsu. Beyond this he also composed the main theme for 2008's
Super Smash Bros. Brawl
and in 2009 he composed the music for anime series
Guin Saga
, marking the first time he provided a full score for an animated series.
In 2010 TIME Magazine Uematsu was named one of the innovators in their "Time 100: The Next Wave - Music" feature. The worldwide effects of Uematsu's emotional music were then seen in 2012 when
Aerith's Theme
, one of the staple tracks of
Final Fantasy VII
, was voted into the number 16 position of UK radio station
Classic FM's Hall of Fame Top 300 Chart
. It was the first time, ever, that a piece of music written for a video game had appeared in that chart.
But beyond all this, as to anyone who has met him will attest, Uematsu still remains very grounded and down to earth. In his spare time he resids in Tokyo with his wife Reiko and his beagle Pao. He enjoys watching professional wrestling, drinking beer and cycling (hopefully not in combination!) Uematsu has actually confessed that his
dream career when he was younger was to become a professional wrestler
. My ears are thankful that instead his side-job turned into such a blossoming career.
So, from all of us here at Eyes on Final Fantasy - Happy 54th Nobuo! May there be many more to come!
Sources have been linked throughout, additional information take from
Power-Up: How Japanese Video Games Gave the World an Extra Life
by Chris Kohler (2004)