Tattoos aren't for everybody, and believe me I've heard it said a million different ways: "Why would you destroy your body like that?" and "well, think of how ugly they'll look when you're over 60." But for those of us with tattoos, it's a way to connect deeply with what we love and cherish. I have a small tattoo of a dragon on my hip – now dragons are something I've always felt an affiliation with – they're strong, majestic and dangerous creatures to some, but to me they're a sign of wisdom, fantasy, luck, and possibility. To the tattooed, wearing art is like wearing your soul out on your skin.
I find them to be one of the greatest forms of self-expression, and they're a great conversation starter too. Imagine my surprise when I discover a man who has an array of impressive and beautiful Final Fantasy tattoos adorning his body. Well, I said to myself "Locky, you're in bloody good luck here." So I chased 32-year old Paolo Hassan down for an interview straight away…
This tattoo was done as a tribute both to Paolo's favourite Final Fantasy, but to his son too.
Interestingly, the Final Fantasy VII logo makes for a very popular tattoo for many
as it is very small and very simple, but symbolic.
Why did you choose Final Fantasy? What is it about the games that you love so much?
Well it all started back when the PlayStation came out I was working for the now non-existent company called GamePlay, a friend I was working with was heavily into import RPG's and got me hooked on them so I hunted round and saw FFVII and fell in love with it.
From the characters, graphics, story, everything about it and from that moment on I started to collect the different Final Fantasy games each new game cementing my love for the series. The worlds allow you to just take yourself away from the worries and pains of real life and concentrate on the character's troubles in game and help fight to save people, worlds or planets!
What was your first Final Fantasy tattoo, and why did you choose it?
Well my first Final Fantasy tattoo was my son's name done in the style of the FFVII logo. The reason for doing this is because we named our son after Zack from the FFVII game so I wanted a way to show this and came up with his name as the logo.
Out of all of your Final Fantasy tattoos, which is your favourite?
That's a really tough choice as several of them have meaning but if I had to choose I would say my son's FFVII logo, because he was named after a character in my favourite game in the series.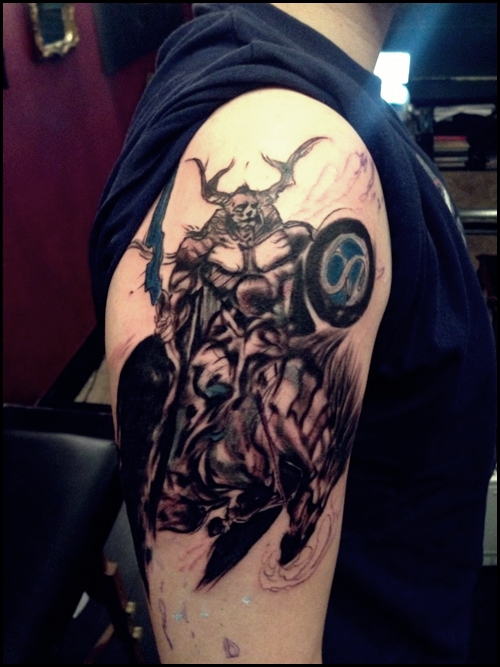 Paolo's Odin tattoo is the perfect inked version of Yoshitaka Amano's original drawing of the popular Summon.
As for a meaning for Odin, to me, I'd say he represents strength, chance and myth - hidden force
.
I love this, especially the placement. He looks absolutely perfect there,
and if you scroll down you'll spot his shield in Paolo's latest tattoo of Behemoth.
My favourite of your tattoos is the Behemoth piece. In fact, when I saw that particular piece of art I fell a bit in love with it myself and really did consider it for a tattoo
;
what made you choose that piece?
Thank you. I too love this piece of artwork especially as it's a Behemoth one of the more iconic enemies throughout the Final Fantasy series. This tattoo came about after having several Final Fantasy tattoos done already (Odin, FFX Logo, Gilgamesh, FFVIII logo, FFVII Logo) I wanted to continue my "Yoshitaka Amano" inspired sleeve. I have "The Sky - Art of Final Fantasy" books by Amano so I had so much to choose from but kept coming back to this piece. I suggested to the tattooist about having him on the sleeve as Behemoths are one of my favourite monsters in the series and he was so excited too that I couldn't resist having it done!
The Behemoth. A truly iconic creature from Final Fantasy. Unlike the cute mascots (Chocobos, Tonberrys)
Behemoth is infamousfor his brute strength and difficulty to go down easily.
He baressimilarity to lions and other wild cats whilst still being completely
unique and beautiful, also.

Do you have plans for any other Final Fantasy tattoos?
Yeah! I have to finish my Final Fantasy "Yoshitaka Amano" inspired sleeve so I have room for about 4-5 more pieces in the sleeve, we shall see after that if I want any more.
If you could only have ONE more Final Fantasy tattoo, what would it be?
Wow tough one. There is so much amazing artwork to choose from! I would probably have Vincent Valentine, either his portrait from Advent Children or the Dirge of Cerberus artwork; he is my favourite character in the series.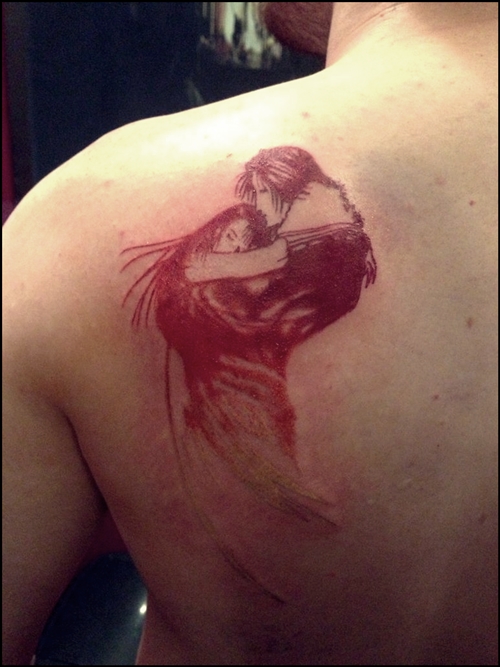 Paolo had this logo tattooed as Final Fantasy VIII is the series favourite of his wife (she's got taste)
Like the Final Fantasy VII logo, this has been a popular tattoo because of the simplicity
and the representation of love that it depicts.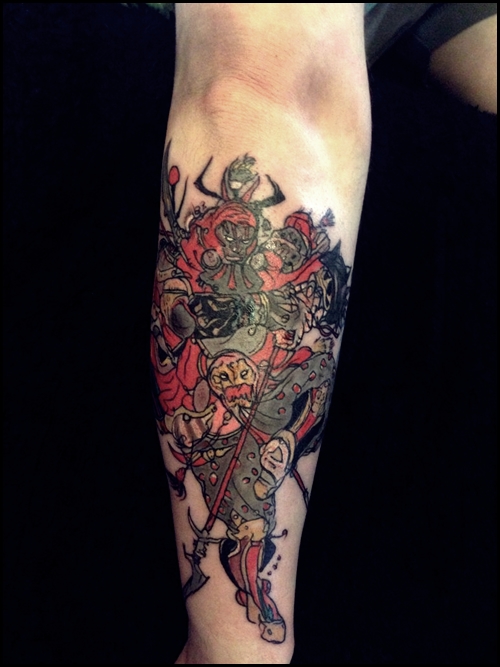 Another tattoo from Paolo's Amano sleeve is of Gilgamesh. I personally
think this image is very Indian/Hindu inspired in some ways
and Gilgamesh represents a brave warrior of traditional ways.

Does getting something that you're passionate about, and that you love tattooed on you make it all the more special?
It definitely does. I had wanted a tattoo done for years and I toiled with what I should have done. Then I had the idea once my son was born to show my love for both my child and the series that I love.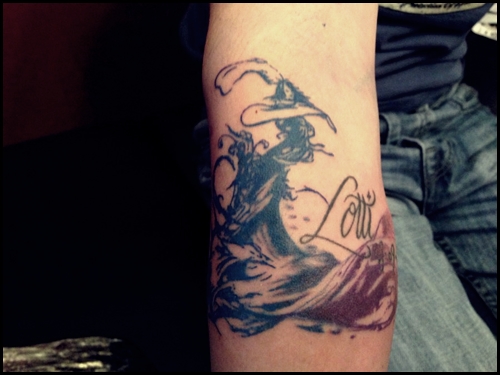 Another logo tattoo, this time with the name of Paolo's daughter.
The image of Yuna performing the sending is very spiritual and
in some ways religious, the colours are also very different to what Paolo already has.
What advice would you give to someone who is considering getting a Final Fantasy tattoo?
Well the main thing is you need to be sure you first want a tattoo as they stay with you forever. Secondly what kind of Final Fantasy image you want as there's so many different styles and thirdly placement, how you wish to show the tattoo off! But honestly if you love something that much I'd say go for it as I haven't regretted mine at all.
Paolo would like to give a shout out to Amano for his wonderful art, Square Enix for Final Fantasy, and his tattooist
AkumaShugi
at Bat Country Tattoo!
And there you have it, our very first Ultimate Final Fantasy Fan is the wonderful Paolo Hassan! If you'd like to contact Paolo with any questions, do visit him on
Twitter
or even on
deviantArt
. He's a very friendly guy and will most certainly answer any questions you may have for him! If you think you could be the next Ultimate Fan, then don't hesitate to get in touch, and maybe you could be featured next!