Back when Kingdom Hearts was first released in 2002, the concept seemed strange. Squaresoft collaborated with Disney to create a game which saw Final Fantasy characters coexisting with Disney characters and worlds. Despite the strange concept, the unlikely collaboration went on to become an immensely popular series spanning 7 titles and 5 consoles. With the third "main" title in the Kingdom Hearts franchise just announced for next generation consoles, Square Enix has begun to remaster the older games for the Playstation 3.
The games included in this collection are Kingdom Hearts Final Mix, Kingdom Hearts Re:Chain of Memories, and a cinematic version of Kingdom Hearts 358/2 Days.
Kingdom Hearts Final Mix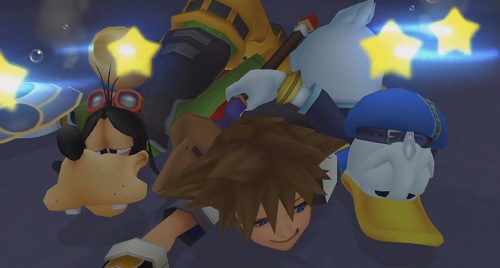 Donald and Goofy will look like this a lot
The most important thing to note is that this is the only time Kingdom Hearts Final Mix has been released outside of Japan. The additions you will find in the Final Mix version are:
-New start screen
-Recolored and New Heartless
-New weapons
-New accessories
-New abilities
-New Gummi Ship missions
-New optional boss
-New (voiceless) cutscenes
-Deep Dive secret ending
Aside from this additional content, Kingdom Hearts Final Mix also includes three difficulty levels: Final Mix Beginner, Final Mix, Final Mix Proud. Even for Kingdom Hearts veterans, Final Mix Proud should prove to be a significant challenge as it is even harder than Expert difficulty from the original game. Another important thing to note is that you will not gain access to either secret ending if you choose Beginner Mode.
Final Mix also updates the controls. This time around, the camera is controlled through the right analogue stick as is the case with most modern games. Actions such as opening doors, talking to people, and certain abilities have now been relegated to Triangle button whenever the button prompt appears. Both of these features may take some getting used to for those who have played the first game as much as I, but they do help this game better match the controls of future games in the franchise. Aside from the controls, much of the soundtrack has been updated with a full orchestra as well, and cutscenes are now skip-able. As is the case with each game in this collection, you also unlock a theme for you PS3 upon beating the game.
This game does have some negative aspects, though:
- While the game looks beautiful, characters will often times go from fully animate, expression-filled faces to having a blank, poorly animated face. Sometimes a character can switch between these states multiple times in the same scene, and it feels even more jarring now in HD than it did with the original release.
- Despite the update to controls, the camera and lock-on system can still be a bit clunky.
- Several people (including myself) have come across audio issues in the game in which audio will completely drop out. Sometimes this will be for short periods of time and sometimes it will last until you turn the system off. This seems to happen at random, and most people seem to be unaffected. This does not happen with the other two games in this collection.
- Gummi Ships. Few people found this mini-game enjoyable with the first release, and it can be even more tedious with the increased damage your ship receives on harder difficulties. Also, if you want to get all of the trophies for this game, you will need to complete the Gummi Ship missions.
- Speaking of trophies, beating the game on Proud will only give you the trophy for Proud mode. You will have to beat the game in Final Mix and Beginner mode as well to get their prospective clear trophies.
Kingdom Hearts Re:Chain of Memories


Believe in the Heart of the Cards
As this game has been available outside of Japan for a while now, I won't spend a lot of time talking about it. For those unfamiliar with it, Re:CoM is a PS2 remake of the Gameboy Advance game, Chain of Memories. It serves as an immediate sequel to the first game, picking up right where the first game left off. It's story is an interesting one, and it contains important information for fully understanding Kingdom Hearts II. Aside from the updated graphics, this remake also includes several fully voiced cutscenes. Just like the first game, this game looks very beautiful in this HD remaster.
Rather than the button mashing nature of the rest of the series, this game has a card battling system. The basic gist is that each card denotes a certain type of Keyblade attack, ability, item, or even character. Each card has a number on them from 0-9 which depicts the card's strength. An ability can be stopped when you place a higher numbered card on top of your enemy's or vice versa. The game holds a lot more strategy than the original game with some truly challenging battles. While a very different system, it still feels somewhat familiar and is a lot of fun.
Another fun thing to note is that when you beat Sora's story, you unlock Riku's side of the story with a very different and probably more interesting story being told. The battle mechanics change a little bit as well with Riku having different abilities from Sora. You also cannot edit Riku's deck, his cards automatically changing from floor to floor.
And now for some of the negatives in this game:
- Sora's voice. This is a little unfair considering Haley Joel Osment was older and had a deeper voice when this game was made, but it is a little jarring at first having a much deeper voice for Sora when this game takes place immediately after the first one.
- The Disney world designs are pretty uninteresting and start to feel too samey by the end of the game.
- This is where the story begins to get more convoluted. I personally love the story of the series, but a lot of people don't like how confusing the story can get after the first game.
- Same trophy issues as the first game.
Kingdom Hearts 358/2 Days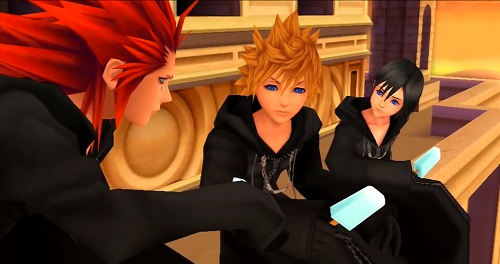 "I swear, if you make me eat
one more sea-salt ice cream..."

The most important thing to note here is that this is not a playable version of 358/2 Days; rather, Square Enix opted to only remaster the cutscenes from the Nintendo DS game. These scenes do not look as good as the other two games in the collection, but they still look impressive considering the source material. I will note that the mountains in the background of Twilight Town look atrocious, but it is rarely noticeable and everything else looks great.
While a lot of care was obviously put into this movie version of 358/2 Days (including adding voices to some previously unvoiced scenes), there are some awkward moments in the story telling. None of the major battles from the game are shown, and this creates awkward skips in the story where you feel like you missed something very important (and you did). For people who hadn't played the original, these moments can feel very confusing. This can also kill some of the emotional buildup in certain scenes.
That being said, 358/2 Days has never looked better, and this is probably the most enjoyable way to experience the story since most people had issues with the pacing and gameplay from the original DS game. The repetitive missions from the game are delegated to short text blurbs between cutscenes, cutting down a lot of what many people consider filler. Aside from the cutscenes, 358/2 Days includes all of Roxas' journal entries, Secret Reports, and the Character Database.
Here are the negatives:
- Only the cutscenes. Most people will probably prefer the movie version, but this is a huge negative for people like me who actually really enjoyed the original game.
- No major battle shown, creating noticeable gaps in the story.
Final Thoughts

These three Kingdom Hearts games have never looked nor sounded better than they do in this release. That alone would probably be worth the purchase for most Kingdom Hearts fans. For those who already own these three games, keep in mind that this is the first time Final Mix has been available outside of Japan. I would still say it's worth a buy just for that reason.
For people who are just now gaining an interest in the Kingdom Hearts or have only played the two numbered entries, I would consider this a must buy. With this release and the upcoming 2.5 ReMIX, you can now experience most of the story without having to invest in 6 different gaming consoles. You will now be able to have all of the games (except Dream Drop Distance for the 3DS) on your PS3 in preparation for the release of Kingdom Hearts III on next generation consoles.