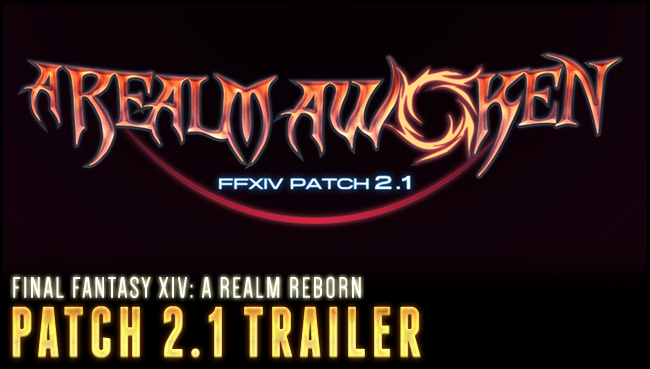 Square Enix have just released an exciting trailer showcasing all the upcoming features for the first major content patch of FINAL FANTASY XIV: A Realm Reborn. Patch 2.1, titled A Realm Awoken, continues from where the main scenario ended. Scheduled for release on 17th December 2013, the patch adds a succulent array of new things for players to do.
The key features of the patch are:
The Crystal Tower: A 24-man Duty Finder Raid
The Wolves' Den: A 4 vs 4 PvP Arena
Pharos Siris: A new 4 man max level dungeon
Hard mode difficulty versions of Haukke Manor and Copperbell Mines
Extreme mode difficulty versions of the three Primal Battles
A hard mode difficulty version of the Ultima Weapon battle
The Good King Moggle Mog battle
Free Company Housing
Beast Tribe Quests
Treasure Hunts
The Duty Roulette
The Aesthetician: Allowing players to recustomise parts of their characters appearances
The continuation of the main storyline
Also making a reappearance is the ever popular Hildibrand, Agent of Enquiry whom 1.x players will like remember fondly due to the fun adventures he got up too.
Check out the trailer below:
How awesome do the new Primal encounters look? Who wouldn't say no to the chance to fight Ultima Weapon again? Just what are the Ascians up too this time? Are you looking forward to adventuring in A Realm Awoken?
We'll be giving you our impressions of the patch a couple of weeks after it goes live, so if you've yet to venture into Eorzea, or if you've taken a time out, be sure to check back soon!