The Final Fantasy series has been no stranger to some weird, wacky, and truly wonderful outfit designs over the years. The characters of Final Fantasy are recognisable by their get-ups, and they'd never really been a changeable feature of the game until Final Fantasy X-2 brought us the Dressphere system. With each outfit, a new class was unlocked and ready to go in battle. Fans were divided on the system – many loved it as it provided a versatile and fun battle system. Others loathed it as it brought an overly girly edge to the game – was this game Final Fantasy, or Fashion Fantasy?
Whatever your thoughts were about this game, the designers sure did have their fashion hats on in creating the array of Dresspheres that can be used in the game. So here is my run down of my five favourite Dressphere designs of Final Fantasy X.
5. Festivalist

This Dressphere is only available on the international and HD remaster version of the game. This is a curious Dressphere indeed being that they all look so different. While the other Dresspheres all have similar elements, you'd struggle to put these together – with the exception of Paine and Rikku. Yuna stands alone in hers, but they're still pretty interesting and fun. They look cosy and easy to move in – a far cry from some of the other Dresspheres which border on being ridiculous. I love that these show off a softer side to the girls. I can imagine them actually going to a cute festival in these. Rikku dressed in her cutesy shorts, Paine in some shorts too, and Yuna in this full on classy kimono. The outfits really show the personalities of YRP really well.
Who wore it best? Yuna

Yuna was made to wear this outfit. It's a total throwback to her Summoner days and I love it on her. She looks elegant, and Paine and Rikku just look like they're wearing pyjamas. Yuna's has a big impact and the pattern and detail is to die for.
4. Gun Mage

Gun Mage is an interesting outfit to me; it's as interesting as the class itself. The halter-neck crop tops are a nod to nineties 'girl power' fashion. YRP almost look like a futuristic Spice Girls in these outfits. With dip hem skirts, gloves, crazy patterns, and cutaway areas – every element of the design individually screams 'no! no! no!' but the actual result is a really funky, standout outfit. These outfits are bound to be chilly though and I don't like to think what would happen when they're climbing Gagazet in these tiny outfits - or many of the tiny outfits for that matter, they're much more suited to the milder climates of the Calm Lands.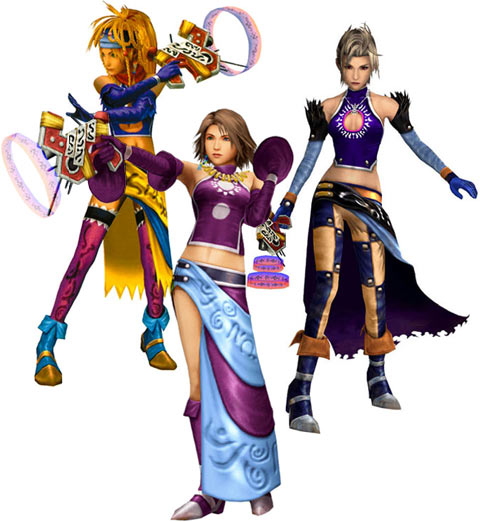 Who wore it best? Paine

Paine takes this one because of the stand out harlequin leggings that she's wearing, the colour scheme is also pretty gorgeous on this. So much contrasting colour. Much trend. Many sex appeal. Wow.
3. Berserker

RAAAAAWR! Did I hear you say tribal? What's not to love about the Berserker outfit? Wild animal prints and demonic horn accessories set this one off with a mighty roar. The girls look like feisty little beasts in these, and the contrasting colours just pop off the screen. I love this look because it's so elaborate every tiny detail on the Berserker outfit makes it bang.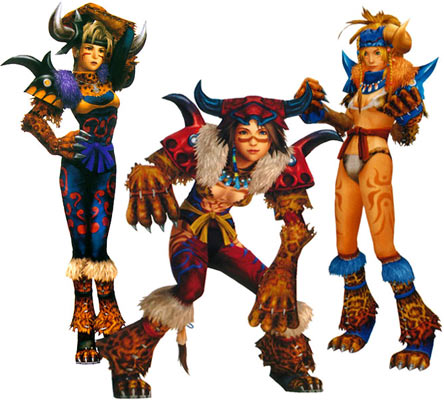 Who wore it best? Paine

Paine takes it again. I love the velveteen look of her Berserker onesie. I also think she has the tough face to pull it off. Yuna and Rikku are just too cute, but Paine has the face of a high fashion model. The colours on this one are gorgeous again, and of all three she makes the most impact.
2. Black Mage

The Black Mage outfit has been pretty standard throughout the series, with the main motifs being a pointy hat and a dark cloak. The Black Mage of Final Fantasy X-2 has been given a colourful hue, luscious leather bits, and accessorised hats. There is no black cloak in sight here, and it's refreshing. Don't worry though, the loss of the black cloaks doesn't make this any less distinguishable as a Black Mage garb: it's sexy, eye-catching, and just gorgeous.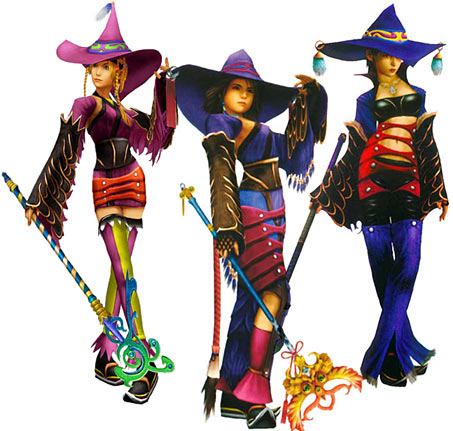 Who wore it best? Rikku

I love Rikku's sassier Black Mage outfit. It's not as traditional as the other two, and it's got a youthful pizazz to it that matched Rikku's personality really well. I love the layered mini skirt and frayed contrasting stockings.
1. Lady Luck

I'm pretty sure YRP are going through a tonne of tit tape for their Lady Luck dresspheres (where would you even buy that in Spira?) because how do those dresses even stay on? Especially in battle when they're getting hit with magic and everything else. I'm surprised they haven't just fallen off. These are number one on my outfit list though, because I just love them, no matter how unrealistic they look and how much flesh is on display. I love the use of colour and how they're glamourous and sexy.
LeBlanc's outfit is also very Lady Luck-like, but she looks horrific in it and goddamn she must get through the tit tape too like it's nobody's business because gravity would not be keeping her bazungas locked in like that. I'm sure her goons have seen a few nipple slips here and there.
Who wore it best? Yuna

This was really difficult. I love the skirt on Paine's, but the colours are a tad bland, whereas Yuna's has a gorgeous ombre effect through it and I love her hairclip. It's really risqué but she also manages to make it look effortless despite being a total cutie patootie unlike Paine who is a smouldering sex beast.
So there you have it, my favourite Dressphere designs of Final Fantasy X-2. There are so many more I wanted to include in my list, and it was so difficult to whittle down. I'm also shocked that Rikku only got one 'wore it best' accolade here, as I found her to be the overall best dressed in the game! What are your favourite Dressphere designs?
I can't wait to see these beauties in high definition this month, and I'm glad that I'll have full access to every one of them too. It's going to be an exciting playthrough of this little cheesy gaming gem!