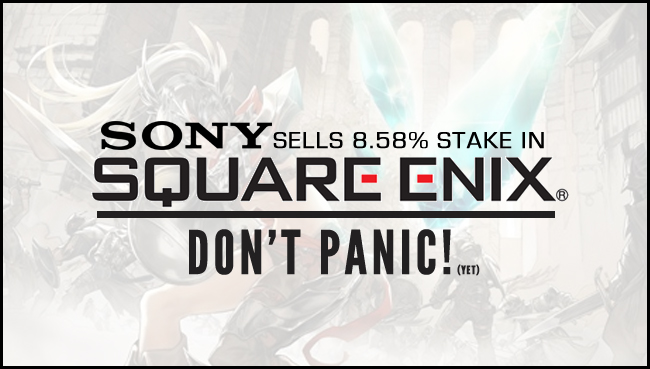 April 16th, 2014. Sony Corporation made the surprising announcement that they will be selling off all of their shares they have in SQUARE ENIX Holdings Co., Ltd. The shares will be sold to SMBC Nikko Securities Inc., one of the three largest brokerage firms in Japan.
It's expected that all 9,520,000 shares will be transferred, amounting to around $47 million (4.8 billion yen). The sale will be included in Sony's. full-year financial results for the fiscal year ending March 31, 2015.
Now, the initial reaction to this is probably: WHAT!? But, don't panic just yet.
It's rumored that Sony's shares were nonvoting. Sony made an equity investment in Square around the time
Final Fantasy: The Spirits Within
tanked. After the merger with Enix, Sony's ownership position was diluted even further and remained functionally irrelevant.
Square Enix have had a fairly successful 12 months.
Tomb Raider
, although it sold below the unreasonable expectations of the company, still sold well. The re-release of
FINAL FANTASY XIV
brought a return to profit and
Bravely Default
has become an unexpected success story in the west, causing Square Enix to completely rethink it's strategy for western markets.
Sony, on the other hand, have been on the financial rocks for quite some time now. The company has been undergoing some massive restructuring, including selling off it's Vaio computer division and spinning off the TV operations into a seperate business following it's loss of $7.8 billion over the past 10 years. Sony also plans to close 20 of it's retail stores and cut 1,000 jobs in it's electronics division by the end of 2014. Sony also recently made substantial lay-offs at it's Santa Monica Studios, the studio behind the high-profile God of War series, as well as canning the triple-A project they had in the works.
The end result of this share sale is that Sony will receive around $47 million and SMBC Nikko Securites Inc. will receive around 9.5 million shares. This move, overall, seems to be an attempt by Sony to balance it's books even further - rather than something that spells out Doom and Gloom for Square Enix.
In the short-term, very little is likely to change.
So, don't panic... yet!
[Source:
Sony Sells Off All Of Its Shares In Square Enix - Siliconera
]