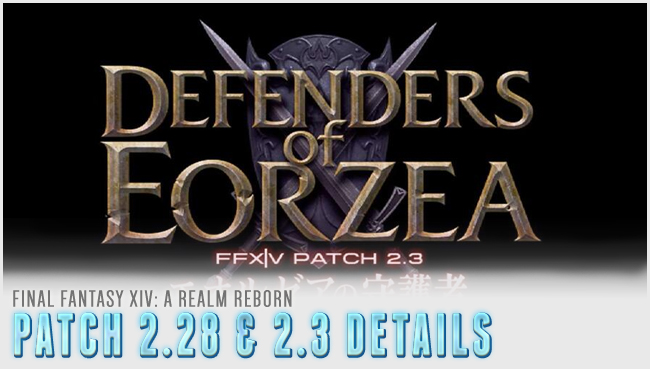 If the most recent Letter from the Produce Live was akin to the lesser moon Dalamud, then the details revealed within it would be the explosive force of Bahamut itself. Okay, maybe that was a slight exageration, but needless to say; some pretty cool things are coming to the realm of Eorzea. Sooner than you'd think, too! Read on.
Patch 2.28
Patch 2.28 will be landing on June 4th or 5th. Originally scheduled for May, the patch was delayed to give more players a chance to finish their Animus weapons in time for the next stage of the Zodiac Weapon saga. While Patch 2.28 is not big enough to warrant a numerical increase, due to it's lack of main story content, it does still bring a sizeable amount of quality of life changes to the game.
The biggest addition is the afforementioned continuation of the Zodiac Weapons. Adventurers will be able to collect Alexandrites via completing a variety of challenges. These Alexandrites are then used to upgrade the item level 100 Animus weapon into an item level 110 Novus weapon. The Novus weapon will have a unique look that Yoshi-P states should be "very flashy." Novus weapons also allow the bearer more customisation over the weapon stats. Whether this means less desirable stats can be dropped in favour of more desirable ones, remains to be seen.
A new sightseeing/exploration log is also being added. Similar to the Challenge Log, players will get a weekly set of exploration based objectives to undertake for a quick bit of Gil and EXP on the side, amongst other goodies. This should also give everyone more of an incentive to get back out into the world again, rather than idling in capital cities or Free Company housing.
More good news is coming if you like playing with friends, rather than random players. From Patch 2.28 onward, you'll be able to queue up in a party, via the Duty Finder, for both the High Level and Expert roulettes. This is a nice change, that couples in particular have been clamouring for for some time now. What's more, regardless of if you queue solo or as a group - the party list will now automatically be sorted to display Tanks > Healers > DPS, rather than the current mishmash that can cause temporary confusion when queueing repeatedly with the same group. That's not all though, the ability to skip cutscenes you've already seen will also be added - meaning that you'll know longer be hammering the Esc key to abort, everytime you zone into farm content. Groups that queued as a party will also no longer be restricted from giving out Player Commendations either!
If you've earned on of the many ingame titles such as, Temptress of Fate or the Heart of the Party, you may have previously been annoyed that no-one could see your special title unless they Examined you or checked your character on the Lodestone. From 2.28 onward though, your title will show up underneath your name when out in the world!
Finally, the much awaited Preview Feature is being added, allowing players to click on items to preview what the item would look like when equipped. This is sure to be hotly used by Glamourers, as well as those sharing the rarest gear for all to see!
Some other quality of life changes include:
Adjustments to the behavior of pets while jumping
New objectives will be added to the Challenge Log
New filtering and sorting options for the Expert Delivery user interface
Adjustments to PvP in the Wolves' Den
The ability to register for Good King Moggle Mog XII (Extreme) and Leviathan (Extreme) via the Duty Finder
The Echo will be applied to pets
Filtering options added to the Crafting Log
The ability to display the map from the Gathering Log
Durability will increase to 199% when repairing with a Disciple of the Hand class
Adjustments to the party finder
FATE progress will be displayed on the map
Teleporting via the Aetheryte icon on the map
Addition of text commands to clear the chat log
A list of text commands will be added
The ability to dismount via controller by pressing L1+R1 (LB+RB) at the same time
Fantasia
With the release of Patch 2.28, players will be able to buy additional Fantasia Phials via the Mog Station account management system. Currently players receive 1 phial with their first monthly payment, the phial affords players the opportunity to change the race, gender and appearance of their character once. People have been begging for a way to obtain more phials, and this will finally be a possibility.
Right now we only have a few details, with more to be revealed at the launch of Patch 2.28:
Purchasable by service account (item granted to all characters)
Three purchase options will be available (one, three, or five phials)
Up to nine can be purchased in total
Will be delivered via the moogle delivery system and cannot be traded
The option to purchase a specific number of phials coming at a later date
Patch 2.3: Defenders of Eorzea
Coming in late June, or early July, Patch 2.3 is the next gigantic content update for FINAL FANTASY XIV: A Realm Reborn. Featuring the continuation of the Main Scenario, the patch also has updates for just about every area of the game. Including crafting!

New Primal Battle: Ramuh
The battle with the Primal Ramuh will be added in both Hard Mode (Story) and Extreme difficulty flavours. Yoshi-P refrained from dropping any hints as to why a conflict has surfaced with the, until now, peaceful Primal. He did state though that the backstory for the Sylph Beast Tribe dailies did give a little insight into the Sylph's relation with Ramuh and players may be able to piece together some of the plot from that. Extreme difficulty Ramuh will drop item level 100 weapons and accessories. The weapons will be rarer than the accessorries, and like with all Primal encounters, there's also a very small chance for a rare mount to drop.
Next wing of the Crystal Tower
It's literally onwards and upwards! After clearing out the Labyrinth of the Ancients in 2.1, players and the expedition force will venture deeper into Mor Dhona and begin their ascent of the iconic Crystal Tower. Once again taking the form a 24-player raid, we can expect to see a bevy of a new challenges. The tower shines bright with rewards to be claimed, from another cool looking set of gear right through to the chance to win Sands/Oils of Time that can be used to upgrade the Weathered item level 100 gear (purchased with Allagan Tomestones of Soldiery) into their fully fledged, dyeable, item level 110 counterparts. Right now these Sands and Oils only drop in The Second Coil of Bahamut - so this change will gie hardcore raiders more shots at upgrading their items, while still allowing the opportunity for more casual players to gradually avail of the upgrades.
Three New Dungeons
As seems to be becoming standard for major content updates, patch 2.3 will feature 3 new dungeons. A brand new outdoors "dungeon" called Hullbreaker Island will feature randomised encounters, rather than the current pattern based ones. Hullbreaker Island will also feature a character from the main story, along with a popular Kraken from FINAL FANTASY history
(SPOILER)
some are hoping that this is Ultros
. The other two dungeons are Hardmode variations of the existing Tam-Tara Deepcroft and Stone Vigil. Like previous Hard Mode counterparts, these dungeons won't just simply see dungeon farers retracing their steps at a high difficulty. The dungeons will feature completely different routes and paths. The reclusive Isghardians are sending adventurer's back into Stone Vigil, so the safe money is probably on "here be dwaguns." No word yet on what item level gear these dungeons will drop.
Hunting Marks - The Hunt
Remember how in FINAL FANTASY XII you could undertake Marks to go and kill a variety of rare, challenging or just downright annoying mobs in the world? You do? Good! I hope you thought that was cool, because a similar system is coming to Eorzea! Players will be able to undertake Marks. Like Treasure Hunts before them, Marks will range from simple solo encounters, challenging solo encounters or encounters that will require a Full Party to emerge victorious - called Rank B, Rank A and Rank S respectively. All of these encounters take place out in the world, so adventurer's young and old alike are bound to spot something new on their frequent travels. Successfully completing a Mark will award the victors with points that can be used to turn in for Myth Gear, Alexandrites and other unique awards. There may also be some sort of competition on servers to see which Free Companies can vanquish the most difficult Marks each week. Either way, it's definitely a cool new experience that will give Free Companies more incentives to play together.

Item Salvaging
From level 30 onward, crafters will be able to break down their items. This isn't just a simple destruction process. The process will work much like crafting an item does; crafters will use a variety of skills and resources to deconstruct their items. Deconstruction will generally allow craftes to recover most of the materials used to craft an item - the more successful the crafter is at managing their resources, the more materials they will yield from deconstruction. However, Item Salvaging isn't just limited to craftable items. A vartiey of items can be deconstructed to obtain rare materials and items that are only obtainable via salvaging.
PvP Frontlines
The Frontlines will be 24-man, 8v8v8, objective based Battlegrounds. Not much was revealed about them as this is one of the talking points for the next Live Letter at E3 this year.
E3 2014
E3 is just around the corner, and the next Letter from the Producer LIVE will be broadcast live, and in English, from the show floor. More 2.3 details are going to be revealed, along with expected reveals of the next Job Classes being added to the game - and possibly even more! Be sure to stay locked to Eyes on Final Fantasy for all the Eorzean news, as it breaks.
Artwork (1/2)
A bunch of sneak peak art, for everything from Wedding Dress to Crystal Tower designs and new character posts, was shown off during the Live Letter.