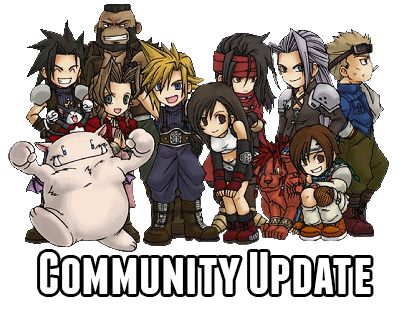 Welcome to another Community Update! This is my first time doing this one, so don't lynch me if I get it wrong


The Rainbow Chocobos

Things of Importance

The 4th of July marked
Independance Day for our U.S. members!

Likewise, on the 1st,
Canada also celebrated a birthday!

Things Around the Internet

Have an extra $20? How about picking yourself up a
cute Final Fantasy VII T-Shirt?

Or maybe for a bit extra you would prefer a
Chocobo shirt!
Or maybe even a
White Mage one!

Do you enjoy cosplaying? Here's some amazing
Lighting
and
Yuna
outfits!

Do you prefer leaving the cosplaying to others? Check out this great
Vanille
cosplay, and this really cool
Cloud!

Things of Humor
Attachment 58025
Something fans of most Tactics games can relate to
Attachment 58026
There is always time for self-esteem
Attachment 58027
Oh Hope! Such a card!
Until Next Time!