After
wondering a bit
ourselves, Final Fantasy Record Keeper has been
fully revealed
. What is it though? It is a mobile game made by DeNA and Square Enix that lets you relive the epic fights you know and love throughout the Final Fantasy Series!
You play as Deci, the prized Apprentice of Dr. Mog. They are historians working for the Ministries of History who have preserved moments in time in paintings in an effort to maintain world order. Of course there is a Cid as well but not much has been revealed about that character yet.
With Dr. Mog's magic, Deci is able to jump into the pictures and relive important moments in the history of Final Fantasy by entering those "memories". By clearing various dungeons, you'll be able to encounter past protagonists. So you'll be able to use your favorites to fight alongside one another. The further you get through each world, the more characters you'll unlock, allowing you to build your own dream team.

Everyone will be in their pixelated form, even the newer 3D rendered cast. So you can take Cloud against Golbez or Lightning against Kefka. Whoever you want on your team, you'll be able to add them once you beat their dungeons. You can also upgrade your equipment as well.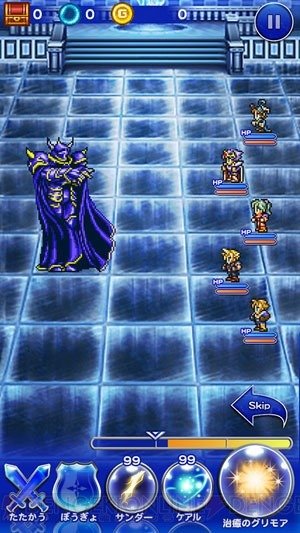 Final Fantasy Record Keeper will be free to play on iOS and Android this summer. There can be small in game purchase for extra items. It currently only has a Japanese release but previously Mobage, father company of DeNA, and Square Enix have released final fantasy free-to-play mobile games in English as well.
This game looks interesting and we can be very hopeful this free to play game will come to NA and EU shores. Who wouldn't want to fight their most hated bosses with their most loved characters!
What character and villain match up would you like to personally see?