Eyes on Final Fantasy, I am beyond elated to inform you all that we recently participated in a live interview and Q&A with Vanille's voice actress, Georgia Van Cuylenburg! Thanks to
Pursuitery
community manager and interview host Evan Jones for making this event possible!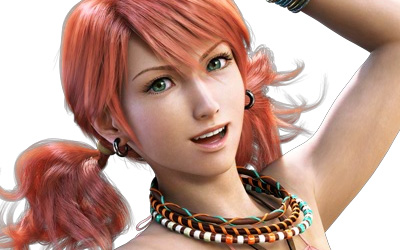 Georgia is a very busy person! A quick look at her
website
will show you that she's an actress, filmmaker, television host, comedian and social entrepreneur. That's really just the tip of the iceberg! She's a passionate philanthropist with a contagious smile. She's made a heartfelt
documentary
about having
Alopecia Areata
and she's founder of an organization called
Arts Bridging the Gap
which brings top quality arts programs to children in lower income areas across the world. We get to hear about all of these things and more during the interview, as well as hear funny and interesting stories about her work in Final Fantasy XIII and Star Wars: The Old Republic. We were fortunate enough to be able to ask her some questions in the tail end of the interview:
Q: There's definitely a lot of parallels between you and Vanille, in which ways would you say you're different from her?

A:I think the difference came when I was recording it I was coming out of a time when I was very similar. The similarity then was that I had been keeping a secret about my hair loss and eating disorders from my past for a long time because I thought I'd be judged and I was worried about how it would effect my life. So I always had that super super peppy thing that she had going on that so many of the gamer's found annoying, which was on purpose, because she was meant to be covering up.

So I think when the game was being recorded I was more like her, the big difference is in Lightning Returns she has a very different personality. She's done exactly what I've done, which is really embrace who she really is and be okay with it and honest about it and trying to do something to change it.

So now, I think if you compare me to the first Final Fantasy XIII I'm very grounded in my truth. We took exactly the same character arc! The big difference is now if you compare me to the first game I'm a lot more honest.
Q: In Final Fantasy XIII the characters have a focus. They get a tattoo branding. In your personal life, if you had a focus, if there was something you would have to do otherwise you would turn to crystal, what would it be?

A: Very simply, my focus in life is to help every child around the world be the best version of themselves that they ever could be. Or believe in their magic, whichever one you want to hear. I always say to help every child around the world believe in their magic, but on a practical level to give them the resources and the self belief to do everything that they're capable of in their life.
Please visit Georgia on the web at:
http://www.girlfromdownunder.com/
http://babyletyourhairhangdown.com/
http://www.artsbridgingthegap.org/home.html
https://twitter.com/GeorgiaVanC
For more information on Pursuitery and a direct video link, please visit:
https://pursuitery.com/
https://twitter.com/Pursuitery
https://www.youtube.com/watch?v=3M0E...UPuROX0-zK7GBg
Picture Source
http://finalfantasy.wikia.com/wiki/Oerba_Dia_Vanille?file=Vanille.png