Greetings EoFFers! I am taking a short break from the world of Final Fantasy XIV to share my thoughts and experiences of the Lightning event that is currently ongoing in Eorzea RIGHT NOW! The event is called 'Lightning Strikes' and I'm not sure how they thought that one up... Taking part in the event will score you some pretty sweet Final Fantasy XIII gear - and the Lightning haircut too!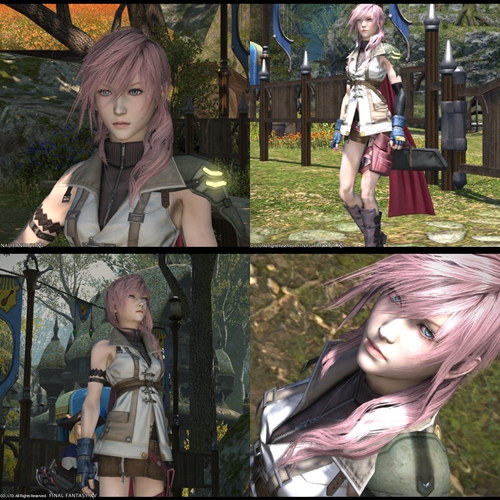 Now, first of all, I'm not a really big fan of Lightning, or of Final Fantasy XIII - but I couldn't help but get really excited for this event! It's so easy and it only took me around 45 minutes to complete it. It involves 5 FATEs that you must complete - and that is it! Super easy right?
GUIDE
(Note, this is not a full guide, this is just how I completed the event.)
Part 1
- lvl 12
Travel to
Limsa Lominsa Lower Decks
, and speak to
Petyr Winsome
to initiate the first 'mini quest'. He will tell you of a strange adventurer that he would like to report on, and he wants you to seek them out.
For this part, I did the '
Sister Crustacean
' FATE in
Middle La Noscea
. You can find it at around
X17:Y9
on the map! It will respawn every 7-10 minutes so just hang around there. NOTE: You must complete the FATE with a Silver of Gold medal and Lightning must show up (she will only show up for 1 of 2 respawns. So if you don't get her on your first try, she'll show up for the second.) As a prize, you'll get 2
Otherworldly Parcels
which you present to Petyr.
Part 2
- lvl 26
Now go to
Ul'Dah
and travel towards the Chocobokeep to find another reporter called
Dural Tharal
. He has also heard of Lightning and wants some info. Again, you will have to FATE.
I went north of
Highbridge
in
Eastern Thanalan
around
X26:Y18
. The FATE is called '
Lightning Strikes: Armoured Beast
' and you will know it is being triggered when the NPC's of the area all rush toward the source. Lightning will show up again to help you take down the mecha-behemoth creature! After completely this you get a
Strange Otherworldly Parcel
which you give to Dural Tharal.
Part 3
- lvl 38
Travel to
New Gridania
and then take the Aethernet to the
Amphitheatre
and speak to
Kipih Jakkya
. She sends you to
Coerthas Central Highlands
for another Lightning sighting!
Go to
Camp Dragonhead
and head towards
Whitebrim
. The FATE I did spawned at
X16:Y20
. This time you fight a Dreadnought in
'Lightning Strikes - Dread on Arrival'
and you'll receive a
Simple Otherworldly Parcel
. Take it back to Kipih!
Part 4
- lvl 45
After a short cutscene with Kipih and Lightning, you are sent over to
Mor Dhona
to help out Lightning once more! So head there for the last two FATEs of the event!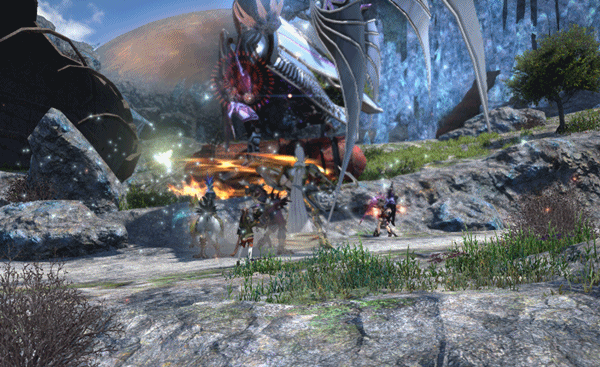 Travle to
Revenants Toll
, I found the FATEs at the location of
X26:Y11
on the map! The first FATE '
Anubys Assault
' will spawn first - so complete this one and then the next FATE will pop immediately after '
On Wings of Chaos
'. During the last FATE Lightning will summon up her Final Fantasy XIII Odin which is a great sight to see!
After you've won the FATEs, travel back to the
Mih'Khetto Amphitheatre
to complete the event! There is a cute cutscene that is worth watching, fan of Final Fantasy XIII or not!
ITEMS GAINED
For each part of the event you do, you will gain a new piece of Lightning or Snow's outfit (depending on gender). In Part 1 you will get the gloves, in Part 2 the skirt/pants, and in Part 3 you will get the boots. After completing all 4 parts, you will get the coat and the hairstyle of Lightning or Snow will now be available from the
Aesthetician.
You can also purchase Final Fantasy XIII style weapons for each class from
Syngiwyb
(stood next to Petyr Winsome) in exchange for
Otherworldy Parcels
which you obtain in the
La Noscea
Lightning FATEs.
This was a great event to take part in. It took very little time, but was so exciting! It was great to see Lightning in Eorzea and to pick up some cute new items! What I also love is how many people are dressed up as Lightning in Eorzea right now (myself incuded!)
So with Lightning Strikes running, and Moonfire Faire still ongoing, Eorzea is a vibrant and fun place to be at the moment! Thanks Square Enix for bringing Lightning back for a newbie like me!