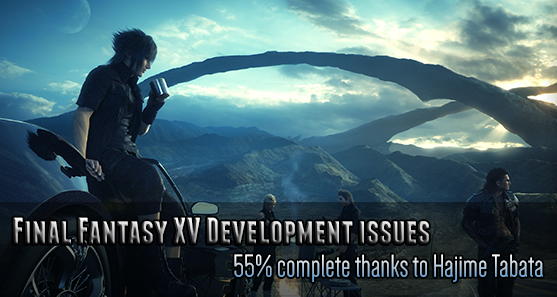 Final Fantasy XV
has been in a bit of development hell. It's been 8 years and has changed it's name, directors, direction, graphics engine, system, and generally has had little to no info released in this time frame. That is, until Hajime Tabata came into the development team.
By the time Tabata had joined the team, Square Enix had been working on XV for 6 years as
Final Fantasy XIII Versus
. During those six years,
Final Fantasy XIII, Final Fantasy XIII-2
came out and the production of
Lightning Returns: Final Fantasy XIII
was in full swing.
Final Fantasy Crisis Core
and
Final Fantasy Type-0
came out during this time and
Agito
was being worked on all by Tabata's teams. The MMO
Final Fantasy XIV
crashed and burned and was reborn during this time as well thanks to Naoki Yoshida.
Tetsuya Nomura, recently stepping down to focus on other games such as those in the Kingdom Hearts vein, left the spot open for Tabata as the director. Attempting to keep most of Nomura's Vision in tact, Tabata and his team have been working hard on the numbered entry. He now says that the game itself, since him joining, is at about 55% completion.
According to
Kotaku
, whom did the interview with Tabata, more was going on internally, "So, when I joined the development team, we've also shifted from primarily using pre-rendered CG to a mix of pre-rendered CG and in-game images that are at the quality of a pre-rendered image." According to Tabata, the graphics are about 70 percent of what they are aiming for. "I think we can get the demo's graphics at about 80 percent of what we hope to achieve," he said. "By the time the game is released, we hope to achieve 100 percent."
He went on to explain how the car itself is a tool to explore the world, akin to the airships of the past. "Whether it's driving or combat, you can do what you like in the game," Tabata said. "There is that freedom. It's open world, and it's possible to go where you want and explore."
So it's been 8 years and 55% is complete. Now this isn't 55% of Versus complete. This is 55% of Tabata's XV complete. We might as well restart the clock and think of it being in development for only 2 years, as that's how long Tabata has been in control. Even though, of course we can't do that.
55% complete? Any thoughts on that percentage and the new development information coming to light?