During Noctis and co.'s escape from Insomnia, the car breaks down and you're put into a sandboxed portion of the Duscae region with the quest of raising money to repair it. This is where our journey begins! You leave your vehicle in the capable hands of a mechanic known as Cindy, who, with her yellow coat and red cap, appears to be a scantily clad tribute to Cid from
Final Fantasy VI
.
You have the option of finding little items here and there scattered across the land as well as selling enemy drops to raise your funds, but the big ticket winner is a Behemoth Horn which sells for a whopping 25,000 gil, which is what you need to repair your car. You're essentially left to explore and go wherever you want. So, how do you get the Behemoth Horn? By acquiring it from a live behemoth, of course!
Originally Posted by
Episode Duscae Loading Screen
The Duscae region is very large, and for the most part, it's pretty much an open field. You'll spend most of your time running around. That being said, it doesn't look barren whatsoever. There's flowers, weeds, bodies of water, and huge mountainous structures to fill the land. Ever last bit of it looks gorgeous and it really makes the land come to life. When it's time to rest for the night, you'll set up camp on top of large rock plateau-like areas. These glow luminescent at night, so you won't have a hard time finding them. It helps that you can put location markers on your world map.
Camping is a big deal in
Final Fantasy XV
. The experience you get in battles doesn't reflect on your stats right away. Instead, it accumulates throughout the day and you get it all at once when you decide to call it a night. This means if you've had a long day of fighting, there are some characters who will go up 3 or 4 levels at once. Before you hit the hay, you will prepare a meal based on what's in your inventory. Depending on what you eat, you will get status boosting effects the following day, such as increased hit points or experience earned in battles. Don't try to pull an all nighter, as these effects wear off.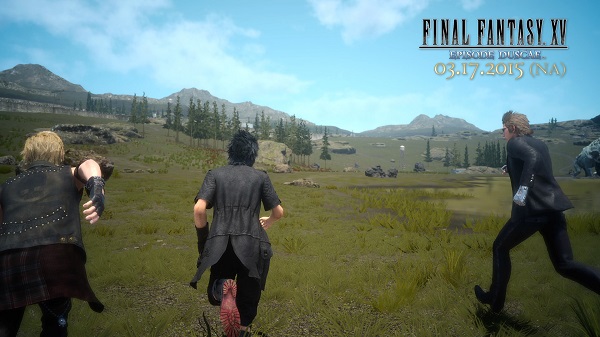 In your quest looking for the behemoth, you go on a
Lightning Returns
style detective hunt for clues of its whereabouts, checking out everything from large footprints, to blood trails, to boulders with huge claw marks in them. You know when you get close to the Behemoth because it triggers scenes such as a flock of birds flying away and a couple trees falling, and it's genuinely tense.
Aside from the behemoth, There are amazing monster throwbacks to classic
Final Fantasy
games. The goblins you run into at night are a great callback to some of the first monsters you run into in the first
Final Fantasy
. I also happened to see some razorhorse-like creatures that appeared to be similar to the mesmerize in
Final Fantasy VIII
. And, of course, where would
Final Fantasy
be without chocobos? You can find these in the wild and at a local chocobo stable, but you can't ride them. At least, not in the demo.
The enemies truly have a life of their own and the transition into a battle is seamless. You're not taken to a different screen, you just pull out your weapons and your groups health bar shows up. Sometimes when you're fighting a soldier, you knock their helmet right off. When you attack a Garula (mammoth-like creature), bigger Garula's come running and pose as a more formidable foe, protecting their herd. Thanks to the battles happening in real time on the field, there's nothing from stopping nearby monsters from joining the fray.
There's plenty of dialogue between the characters, as well. If you swing a sword close to someone in battle, they tell you to watch what you're doing. When you're leaving the mechanic shop, people who fall behind are told to keep up! Non player characters also interact with you. If you run into traffic, expect to have a car beep at you as they drive by. I intentionally did this several times.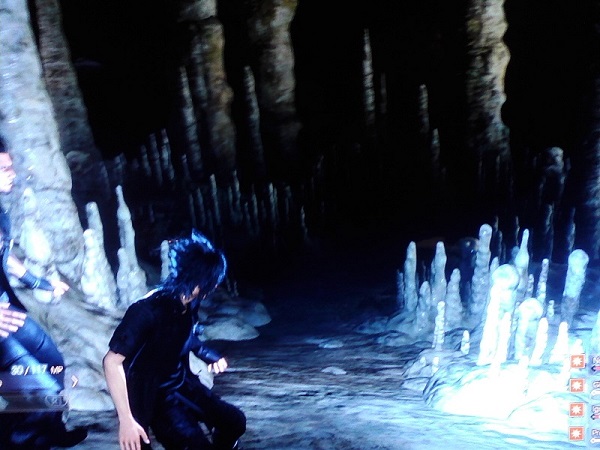 There are plenty of nooks and crannies to explore in Duscae, the big standout being a creepy cave that really seems to be a character of its own. As soon as you walk in, bats start flying out of it. There are winding pathways and stalagmites all over the place! Some areas require you to crawl through holes or claustrophobically smoosh yourself through super tight crevices. Prompto even makes a note about hyperventilating. At the end of the cave is a mysterious glowing rock of sorts. When touched, Noctis has the power to summon Ramuh.
You have all you need to best the behemoth at this point. Ramuh appears to be close the size of the Titan seen in the
Final Fantasy XV
trailer
revealed at Jump Festa 2015. He is
insanely huge,
and in fact, one-shots the behemoth if you use him. Whether you chose to fight the behemoth the easy way or the hard way, you can talk to one of the local shopkeepers for your reward. It's interesting to note that sometimes the shopkeepers won't be at the counter, they may be talking to other people or mopping the floor, but they'll still buy and sell stuff to you. At this point, you're free to talk to Cindy for a cutscene, after which the group leaves in their newly repaired car and rides off into the sunset.
For the most part,
Episode Duscae
has been universally enjoyed by new and old
Final Fantasy
fans alike. Some have said they would like to see improvements on the controls in battle, but I personally had no problem with them. If I did have one gripe, though, it's that I truly want to be able to control more than Noctis in battle.
It's fun, and you can switch up the order in which you use your weapons to make fights feel personable to your interests, but I genuinely want to know what it's like to shoot Prompto's gun or feel the epic swing of Gladiolus. The ability to freely switch between characters in combat would be amazing, even if they had to put up a disclaimer saying "some features only available as Noctis". Square Enix has been very interactive with fans and have been taking feedback very seriously, so I'm still holding out the slightest hope they'll hear our cries on this particular point.
What have you seen of
Episode Duscae
that you enjoyed? Is there something you'd like changed for the full release? If you haven't picked up
Final Fantasy Type-0 HD
yet, I'd implore you all to check it out while the Day One Edition is still available. This is a fantasy based on reality, and it was 100% worth the wait.