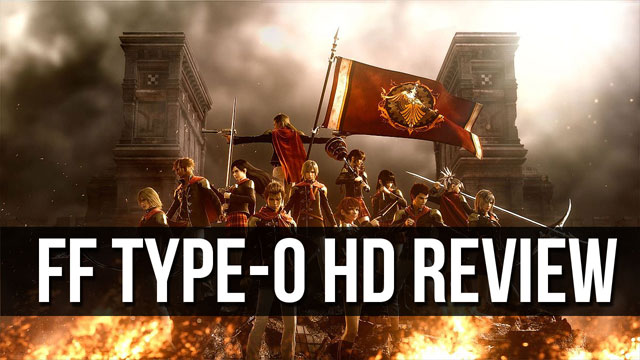 Final Fantasy Type-0 began its life as a PSP release in 2011 and this is very much obvious throughout the game. With that said, as it was released for next gen consoles with a next gen console pricetag and as such I intend to hold it up to the standards of a next gen title.
THE GOOD
There is much to like about Final Fantasy Type-0 HD. The combat is fantastic and I cannot praise it enough. Battles are intense, fast-paced and frantic, giving you an adrenaline surge and they don't feel like a chore even when you've fought hundreds of them. That said, as a Final Fantasy fan, your mileage may vary, as this is more Kingdom Hearts than a traditional Final Fantasy battle system. You do not have the luxury of time to think through your moves and strategy, no sir, in Type-0 both your reflexes and your wits must be lightning fast and it's a refreshing step in the right direction for the series.
You pick a party of three, and you can switch control of those three at any time. The remainder of Class Zero sit in reserve, and you can swap them in when one of your initial trio goes down. When all fourteen are dead, you get a game over. This works really well because Square have done a superb job of diversifying the cadets skillsets, with, to name but three, Eight's fists a perpetual blur of motion, Cater firing debuffs from range with her pistol, and Cinque defying the usual trope of the tank who is slow but capable of inflicting high levels of damage being a big burly man.
There are a plethora of other nuances and mechanics, but one I'd particularly like to highlight is the summoning system. In Type-0, Eidolons are once again earth shattering powerhouses who can easily inflict more damage than your cadets. Summoning them comes at the expense of the life of the summoner, and so it really makes you pause for thought - if such a thing is possible in the frenetic world of Type-0 - as to when the proper time to unleash them is.
Outside of combat, the gameplay is also going to receive praise from me. After a 15 year hiatus the world map makes its triumphant return, and there is a whole wide world of towns and dungeons out there to explore. Clearly some of Lightning Returns's better elements drew inspiration from Type-0, as there's a vast ocean of sidequests out there to complete between missions but only a limited amount of time to do them in. You'll be forced to make choices, particularly in the early game, about what activities you want to do between missions. The variety and diversity is again noteworthy, with an interesting RTS lite minigame seeing you reclaim cities and a favourite, chocobo catching and breeding, featuring once more.
The soundtrack is a solid post-Uematsu entry, with Takeharu Ishimoto doing a fine job. Interestingly there are also a lot of remixes of classic Final Fantasy themes and their use in different ways. The Prelude in particular is a favourite of mine, being used as the background music for Akademia, but it was great to hear the Moogle theme again and the choice of the chocobo theme as the standard world map music was also an interesting one but enjoyable.
THE MIXED
Type-0 suffers from the same affliction that the Lord of the Rings books do. The idea for the story is a great one, but the way that story is actually conveyed has room for improvement. It forms part of the Fabula Nova Crystallis mythology and its bewildering opening cutscene chock full of unexplained terms is certainly reminiscent of Final Fantasy XIII -
have a listen to this slice of the intro cutscene
and see if you can make head or tail of it.
I'll sum it up for you. The world is divided into rival nations powered by crystals, and one of them decides to launch an invasion of another, using dangerous and illegal methods. We take the role of Class Zero, an elite group of experimental students unleashed for the first time in defence of the nation of Rubrum. While other Final Fantasies have touched on war between nations, no other has made war be the basis of the story itself and the story unfolds as you are assigned missions to liberate your nation's territory from the invader. Though the reasoning behind the war is a little vague, you certainly feel its effects. You canít help but feel the ever present threat of war looming over you, told both through the narrative and fleshed out when conversing with the large number of NPCs who are combatants or civilians affected by the conflict.
Though the world of Orience is not the most accessible to start with, its intricacies and mysteries grab a hold of you as you progress with the game. The game is chock full of intrigue, betrayal and desperation. In many ways it feels like it is a story about Orience rather than a story about your characters who happen to live in Orience.
After a brief tutorial, all fourteen characters are immediately thrust upon you at once, with little to no explanation as to who any of them are. This is bewildering and I found myself struggling to remember who any of them were for the first part of the game, not helped by some very similar character designs. I canít help but think back to earlier games in the Final Fantasy series with large casts such as Final Fantasy VI. The characters were all introduced gradually and had their own arcs and backstories. They also split off into smaller groups which allowed us to get to know our protagonists and how they interacted with each other.
Not so in Type-0, where the characters struggle to have any personality at all, let alone any development or growth outside two or three members of Class Zero. If they're lucky, a character may have a gimmick that their dialogue beats you over the head with at all times such as always being a studious nerd or a brash loudmouth, but most are generic and utterly forgettable.
This brings me neatly onto the other area on which I have mixed feelings, the dialogue. As mentioned above, the wacky mannerisms of the characters are crowbarred in and attempts at humour fall flat. Whether thatís because of poor localisation of the dialogue or because Square-Enix is trying to appeal to its stated target audience of teenagers I donít know, though I suspect itís a combination of the two.
The voice acting itself is a mixed affair, with some of the actors knocking it out of the park while others seem stiff and disjointed. In Eyes on Final Fantasyís interview with Orion Acaba, the voice actor for Nine, he mentioned that he and his fellow actors usually recorded all of their lines separately. Perhaps this is bias on my point, having gone into the game with this knowledge, but there was definitely a disconnected feel when characters were meant to be interacting.
THE BAD
Where Type-0 HD lets itself down is in the HD department. It's a PSP game and it mostly looks like a PSP game. While the main characters have all received the HD treatment, many NPCs and lesser characters have not and it's jarring to see your HD cadets standing next to characters who wouldn't have looked out of place in Spira. The animations are also questionable, with horrible lip synching commonplace throughout - if they even get to move their lips at all Ė to some outright bizarre walking animations. While Akademia, the central hub, looks gorgeous and is full of variety, the same cannot be said of the rest of the world. Towns are bland and seem to have been made from the same construction kit. Other locations are uninspired and uninteresting and feel like a series of corridors.
In a series where Final Fantasy VII with its blocky polygons is arguably the most popular game, you might query how important the graphical quality actually is to the experience. In most cases I wouldn't argue on that, but in this case I would make an exception. This game is billed as an HD remake. When you put that in the title of your game, it's a major selling point. Despite this, the job was left half-finished as though they seemingly couldn't be bothered to do the rest. Was this to bring the budget down? It feels like corners have been cut and the experience isnít what it couldíve and shouldíve been, and it's that which disappoints me rather than the PSP graphics themselves.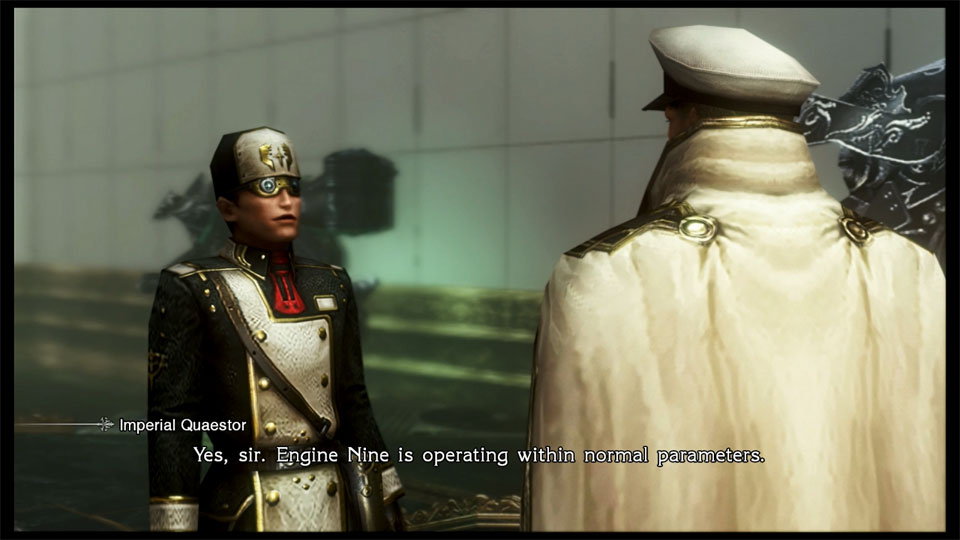 This poor man is suffering from PSP syndrome. No amount of Esunas in the world is going to cure him.
SUMMING UP
There are two questions to be answered here: Is Final Fantasy Type-0 HD worth purchasing, and where does it stand in relation to the rest of the series?
To answer the first question, it depends what youíre looking for. If I was writing this for someone who had never experienced the Final Fantasy series, I would say that you're looking for an example of superb graphics to justify the purchase of your new console or if you want some deep and engaging characters to fall in love with, Type-0 HD is not going to fulfill that. If you want a thoroughly satisfying game with excellent and intense combat and varied, deep and fun all round gameplay, this is definitely a game for you.
But of course, if you are reading this you are likely a Final Fantasy fan to begin with. As such, to you I would say without hesitation that itís worth your time. Though my review may sound negative in places, I had a thoroughly enjoyable experience with Type-0 and I can say with confidence that I will be replaying it. Thatís the first Final Fantasy title I can say that about since X-2.
Like all Final Fantasy games, it has a lifespan that'll see you get plenty of bang for your buck, and it's worth considering that new elements about the story are revealed upon completion in a New Game Plus mode. I would confidently state it is the best title of the Fabula Nova Crystallis mythology to date. Director Hajime Tabata has said that after finishing Final Fantasy XV he would like to start working on a sequel and the gameís ending certainly hints that there is unfinished business. As the starting point Ė the ground zero, if you will Ė of a new franchise, this certainly is a solid base that can be improved on. Final Fantasy XIII-2 was not a day one purchase for me, although I have to say I really enjoyed it. Final Fantasy Type-1 definitely will be.

Here is the same review (shortened with a couple of bits removed) in video form if you want to see how the game actually plays!