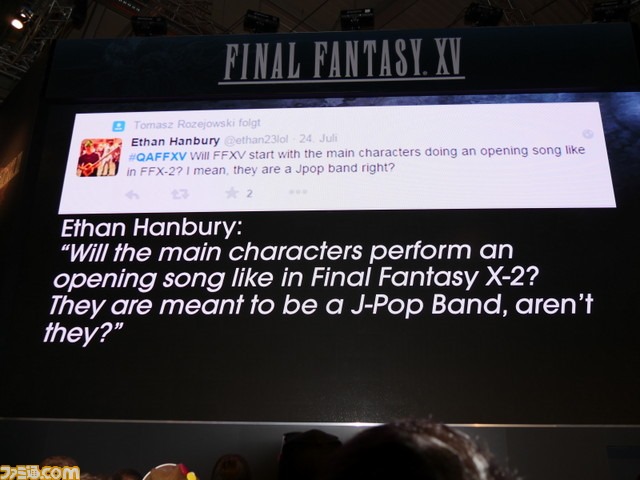 In a few interviews held at TGS this year,
Tabata revealed some more interesting information about the game besides some concept art, a 2.0 trailer, and Chocobos.
The party won't investigate the Meteor from the one town revealed a while back. You'll learn about it when you visit but it's not vital to the overall story.
The party is not a boy band, so don't expect them to perform a J-Pop performance like Yuna.
Tabata agrees with fans and is trying to get Yoko Shimomoru to compose their own take on the classic FF Theme.
Moogles are still MIA for the game as Tabata wants to put them in for the fans but is trying to find a way to make it work with the game's world.
There are many different fishes to catch, and doing so will increase the amount of recipes as you get, as the party will insist on Ignis trying to cook each new one. There are several different types of fish and he currently want to make fishing something you can do on the boat ride.
Each party member has a different interest/hobby that plays into the game. Ignis cooks as we all know, but Prompto likes taking pictures of the journey and he may be keeping a record of it. Gladio enjoys camping so he's generally in charge of setting up camp and is a big fan of Coleman Camping products (which is a real company) he will also come up with new fighting moves for the party to try out which unlocks more assist moves.
You can't fight while riding a chocobo, in fact it's possible for Chocobos to just abandon you and run away when monsters are spotted. There are different types of veggies in the game you can feed them which will increase their intelligence and morale to help avoid this. Black Chocobos are still being worked on but are apparently very special as you have to catch them in the wild.
Lunfreya's is trying to prevent the world from being plunged into darkness. Apparently she is trying to prevent the Plague of the Stars which is making the world be plunged into eternal night. As the game goes on, nights will get longer and days will get significantly shorter. This is why the word Dawn, in the trailer is important. Think of it like Game of Thrones and Winter...
Lunafreya has been confirmed to be a guest character who will fight with the party.
The dog in the trailer is apparently Lunafreya's and is a special guardian for her and not just a pet.
Noctis apparently suffered a grievous injury as a child and had to recoup with Luna's household, they made a promise then to each other that has nothing to do with their arranged marriage.
Tabata will place airships in the game, but due to time constraints, they won't be available when the game is released as he doesn't wish to delay this game further. Instead they will be DLC, which Tabata has made it clear, will be completely free.
Gilgamesh will also most likely appear as DLC content in the future due to fan requests.
Tabata wishes to make more story episodes of the characters as DLC to help players explore more about them and the world. DLC costumes have also been confirmed.
What are your thoughts on all this new information?