Spring is just around the corner and I'm still curled up with my little old DS, getting my hands on the second game in Dragon Quest's Zenithian trilogy. In some ways, this could be considered Dragon Quest's FFVI (with DQ VIII being FFVII) in that a whole lot of people argue this is the best game in the series, even if DQ VIII was the first one that really grabbed the attention of Western audiences. So is this game truly such a masterpiece?
Well, the first big twist in Dragon Quest V is that you are not the legendary hero. Instead you take control of a little boy who is following his dad on a quest to find this hero. The story, if stripped of all the fluff, is still pretty much the same thing, with a great evil taking control of the land, and it's up to you to find this hero and stop the villain. But putting it like that is not really fair towards the game. Dragon Quest V truly excels in the way this journey is presented. You start as a little boy who later grows up, gets married, and has children. This has since been done in other RPGs, e.g. Fable, but nowhere have I seen it executed in such a meaningful, profound way. You really have to go through some very painful, dramatic stuff to grow up and end up where you are supposed to be. You eventually get to choose a wife out of three candidates, but even then the drama doesn't stop. You only get to settle once the battle over the fate of the world is over. And this time around, it really is personal. You, as your character, have a deep, personal reason to really see this through to the end. It's rare that I get to feel so connected to my protagonist, and I think the gameplay plays a really big part in that.
While the battle system remains unchanged, how you manage your party is different. For a big part of your journey, you are the only human on your team. But that doesn't mean you're alone - you have the opportunity to befriend many of those painfully punny-named monsters. If it sounds like Pokemon, that's because it kind of is, though DQV did it first. In the DS version, there are about 70 monsters to get on your team. Though they usually have more limited equipment choices than your human characters, they are nonetheless very useful and careful management of your party is one of the biggest strategic challenges of this game. As for the human characters, you are joined by your wife, your children, and friends of the family. This may sound like it's not a big deal, but it really helps you feel that much more connected to your party than ever before. Further helping that is the inclusion of party chat, which lets you converse with your wife and kids along the way, providing some very fun and heartwarming moments.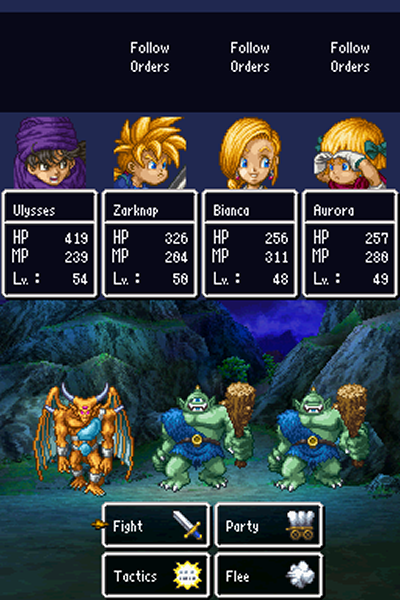 Presentation-wise, the game is identical to Dragon Quest IV, though the dominant colors are cooler and more subdued, probably due to the fact that this was originally released on a later generation system than IV. This, combined with another excellent soundtrack by Koichi Sugiyama, helped create an atmosphere for the game that was quite unlike what we've seen before in Dragon Quest.
All things considered, Dragon Quest V is indeed worthy of all the praise it gets. Though I still miss the vocation system from III, the freedom of composing your own party from a big pool of monsters (and your family members) is very welcome. But the game truly shines in the story department. It's a great example of how a simple idea can be executed with fantastic results if it's done with enough love. For someone who's at the beginning of starting his own family, such as myself, this game can be an emotional rollercoaster. Though in the end, the heartwarming elements outweigh the painful ones. The same version of Dragon Quest V is also available on iOS for $14.99.