Wow, that's a mouthful. So perhaps I've been watching too many YouTube Vids about the Dark Souls games, and this topic comes up way too much, but I figure I'll give it a try for a series I've spent way too much time with. Though I will state right now that this list will omit the MMO bosses due to me never finishing any of them, so I can't make a fair judgement. I am also not going to count battles that are obviously fixed story fights such as Cloud's final duel with Sephiroth or the Yu Yevon fight since those battles are more about story than actual battle mechanics.
I will also say right now that
this topic obviously contains a bit of a story spoiler for the series
, specifically newer entries people haven't played yet, so if you don't want the final boss spoiled for you, I would turn back now.
I will be counting the full final boss battle, so mutli-tier final battles will count as the complete boss battle. I will also state that these ranking are based on my personal opinion, so if you disagree, go ahead explain why, or give me your own rank. The ranking will be based on certain criteria based on a score between 1 (bad) to 10 (good)
Difficulty: How challenging is the boss fight? I like challenge by the way.
Story: How important is the character we're fighting? Has the game been building up to this or is this a last minute bait and switch?
Presentation: How cool is the fight? Does it have great music, fantastic forms, and cool special attacks?
Fun Factor: Adding up the previous three elements, is this a fun battle overall or is missing something?
Again, I will stress that this criteria will still be based on my personal opinion but it will also shift certain bosses differently if I were to just rank the fights the way I like them, since I would likely rank certain battles higher and lower based solely on one factor instead of all of them. I will also do my best to explain my thought process which you may or not agree with.
So without further ado, let's begin with who I consider to be the weakest boss in the franchise...
13. Necron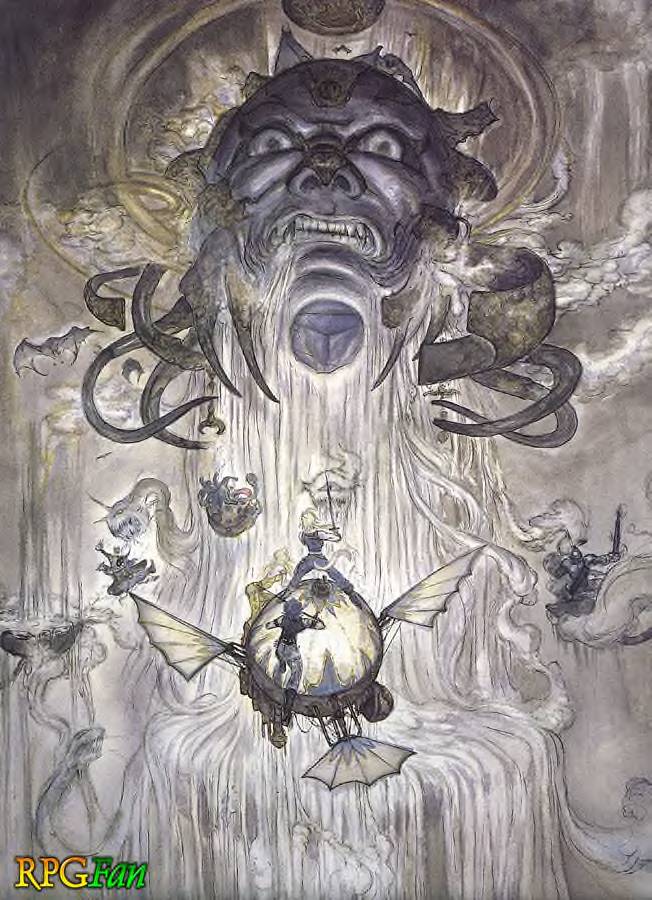 Difficulty: 5
Story: 1
Presentation: 4
Fun Factor: 4
Final = 14
I don't think anyone would be surprised with this choice. The poster child of Space Flea from Nowhere tropes being done badly, Necron is a final boss who appears with little warning, an excuse reasoning to justify he's here, and he pretty much steals Kuja's thunder and Yoda's lines. While I give him points for being a fairly challenging boss fight compared to the previous duds, as long as you were prepared for his status magic, he's still a middle of the road boss for me. His boss music is pretty good, but hardly the most memorable for me either. Ultimately he's just kind of in the middle for me except in story which ultimately sealed his fate. While I can get behind the metaphor of Necron being the embodiment of death and tying into the game's theme of the meaning of life, he was just so badly inserted that I can't quite forgive his faults.
12. Orphan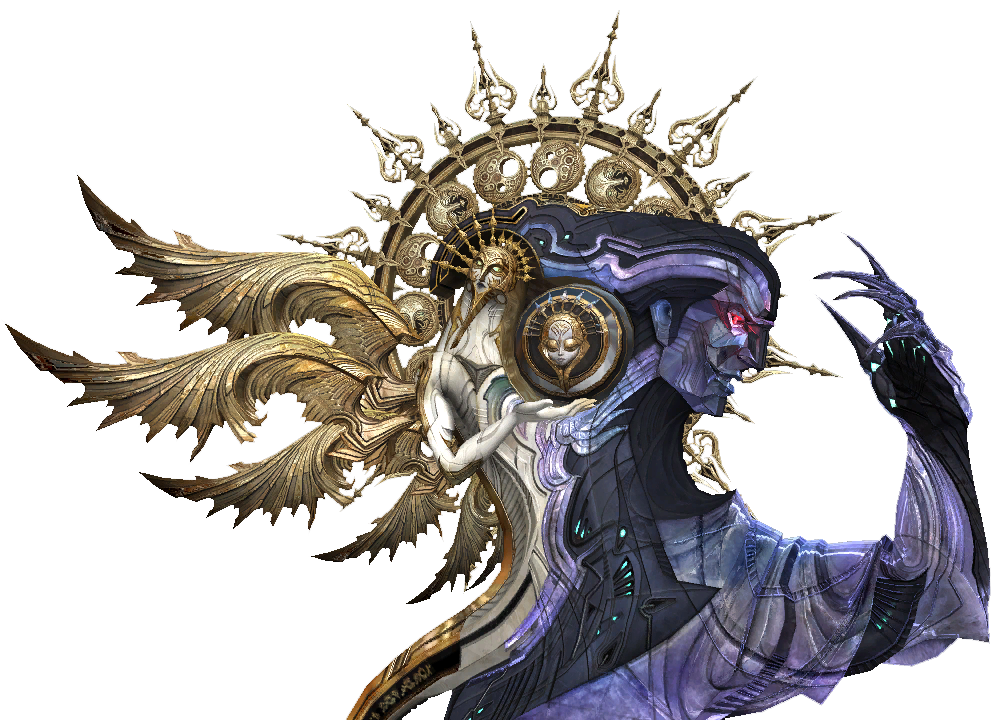 Difficulty: 4
Story: 5
Presentation: 4
Fun Factor: 2
Final = 15
Not a surprise for anyone who knows me and my feelings about FFXIII. Orphan is pretty significant to the story but ultimately comes across as more of a plot element than an actual character, of anything he gets more points than Necron because he's relevant to the plot and I lumped the Barthadulus battle with him who is a bit more significant. What ultimately seals his fate for me is a combination of having glaring weaknesses to things he rightfully shouldn't, such as Poison and Death; but I'm also just not a fan of XIII's battle system and the battle just never entertained me like I wanted it to. The fact you can just hit him with poison, and then turtle the rest of the fight, makes him both an easy and boring boss battle with no real catharsis.
11. Chaos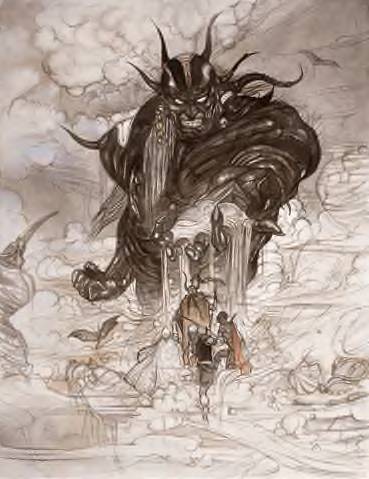 Difficulty: 3
Story: 5
Presentation: 4
Fun Factor: 5
Final = 17
The guy who started it all, and I'm a bit sad to say he's a bit underwhelming. Part of my issue is that the real challenge of Chaos is not so much him as it is actually getting through the Chaos Temple and most importantly, the rematch battles with the Fiends, in one piece than his actual battle. Even with some of the improved difficulty given to him in the remakes, he's still a surprisingly easy boss who doesn't cheese you as bad as Kraken, Tiamat, or hell, even the Lich demons. I give him marks for having a a cool story significance, even if it comes a bit out of nowhere and last minute. Still, it ties together the game and makes the final battle, especially after the grueling final dungeon, a nice experience, even if the end is a bit disappointing.
10. Ardyn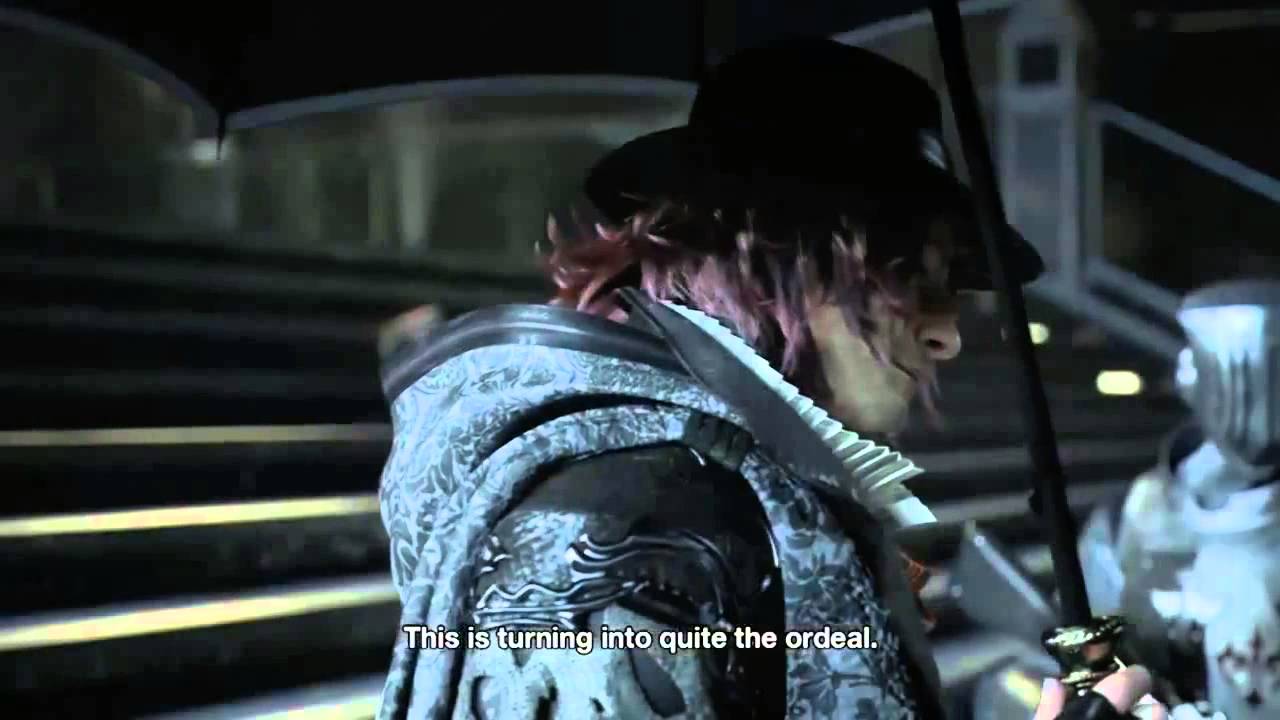 Difficulty: 2
Story: 7
Presentation: 7
Fun Factor: 3
Final = 19
The newest boss on the block, Ardyn is a wonderful example of all flash and no substance in terms of gameplay. While it is a visually cool battle, it largely comes down to button mashing, which is damn near annoying considering the game had been doing a decent job f avoiding those kind of strategies against boss type enemies. It's a cool looking battle but pretty boring on reflection. He gets most of his points for being a pretty good villain and the lead up and presentation of the battle is almost movie quality, I just can't forgive how brain dead it all is.
9. Sorceress Ultimecia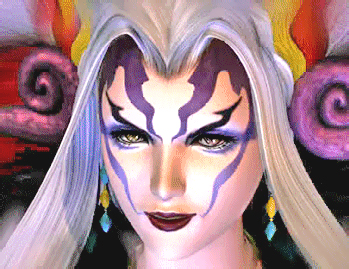 Difficulty: 3
Story: 4
Presentation: 9
Fun Factor: 5
Final = 21
I have always had issues with Ultimecia, I've never cared for inclusion to the story of VIII and the more significant she becomes to the plot, the more I lose interest. Much like Ardyn, Ultimecia is also more spectacle than challenge, but I blame a lot of this one VIII's mechanics. Of anything, my real issue is that her high health just draws out the fight longer than it needed to be. With that said, she at least throws you a curve ball with the whole "roulette party selection gimmick" and the presentation of the fight is pretty cool as you slowly watch her get more desperate the longer the battle goes. Not to mention multiple battle themes of pretty high caliber, despite being more on the easy side, she's certainly a memorable final boss.
8. Cloud of Darkness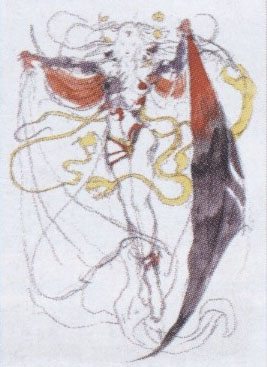 Difficulty: 10
Story: 2
Presentation: 4
Fun Factor: 6
Final = 22
A controversial choice for sure, but proof to me that challenge makes for a memorable boss battle. While I could have done without the whole "redo the last two dungeons and the gauntlet of equally nasty boss battles in them everytime she murders you, which will happen a lot" I can't argue that it made it a memorable experience. Even with proper exploitation of the Vitality stat to raise HP and using a party composed of Ninja's and Sages, CoD proved to be a nail biting final battle for a game I really enjoyed. I still remember my first time beating her on the Famicom version and it literally came down to one final round where I knew she would finish me off the following round. Sadly, CoD is a Space Flea from Nowhere enemy who has more plot significance than Necron, but is hardly as involved as I feel a proper villain should be. I respect the lore concerning her, but it's not enough to help her top more prominent and cooler villains.
7. The Emperor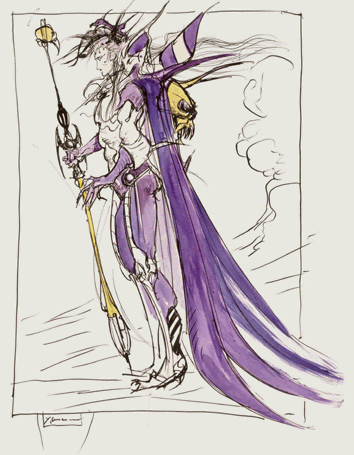 Difficulty: 6
Story: 8
Presentation: 3
Fun Factor: 6
Final = 23
Probably the first "real" villain in the series, The Emperor has certainly grown on me over the years since there was a time he would have rnaked as my least favorite villain, but another playthrough of FFII and some Dissidia has changed my views. He's a force throughout the story and his return from Hell is such a badass moment that it's hard not to feel he owns this game. The boss battle is bit subjective as it mostly comes down to "do you have at least one Blood Sword?" cause if you don't, he'll test the limits to how much you abused your party for high stats. Even if you have the sword, he's harldy a push over as his own attacks drain your party health and heal him, so you'll definitely be kept on your toes for the whole fight regardless unless you just seriously grind too much. His failing is that he's not the most exciting boss battle to watch. His boss theme is okay, and the spell effects are cool but hardly memorable. He's a still a great boss though.
6. Vayne, The Undying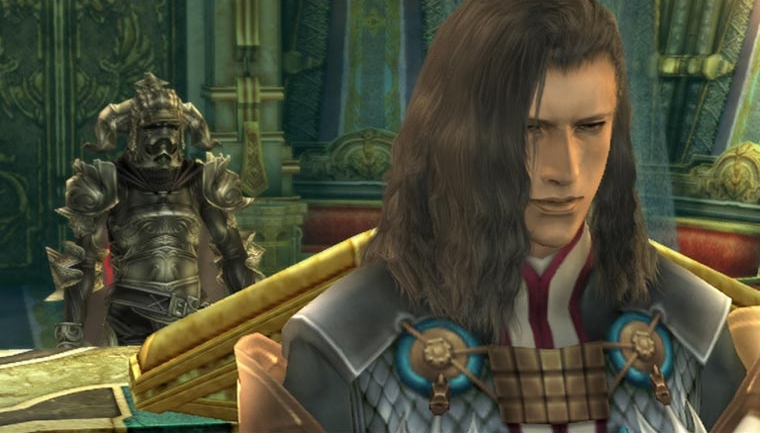 Difficulty: 5
Story: 7
Presentation: 6
Fun Factor: 6
Final = 24
This one kind of surprised me, but proof that just being solid, though not exceptional, can still get your pretty far. I've always liked Vayne, but I prefer smart and politically driven villains, especially ones that are ambiguous. He's a complex character who wants to help mankind, but has no qualms about serving his own self-interest as a by product of it. His boss battle also has the excellent Struggle for Freedom, which is still one of my favorite boss themes composed by Hiroshi Sakimoto and the battle is filled with pretty cool attacks if you don't spend 90% of the battle messing with your Gambits and equipment during the fight. Course you also get to have Larsa and Gabranth help you for certain portions of the battle which made it pretty memorable for me. Sadly the fight isn't terribly difficult and I've had times where I left the battle to get a drink of water to only come back and see his death animation, but he can still throw a wrench into your careful planning with some of his movesets and aggressive spamming of his various Flare moves.
5. Braska's Final Aeon
Difficulty: 4
Story: 8
Presentation: 8
Fun Factor: 5
Final = 24
Yeah, this surprised me too. Though on second thought, barring one major problem I have with the fight, I do consider it to be one of the highlights of FFX. Jecht is a great characters and the lead up to this battle is pretty good, even if I had to put up with Tidus' whining and Yuna the Drywall summoner. Yet is has an awesome battle theme, I like the dialogue options in battle to give you an edge in the early rounds, the fact the fight gets more hectic and desperate as move further in. The glaring issue with this fight is the difficulty. Much like The Emperor above, "did you collect and unlock the power of any of the Celestial Weapons?" well be prepared for the most anti-climatic final boss fight in the series as you kill him in two hits. Now if you don't bother with the weapons because the minigames in X are atrocious, then he's a fairly fun and challenging boss battle, but he can still be undone if you know what you're doing and abuse the Aeons and Overdrives. This ultimately sucks the joy out of the fight for me, but otherwise it has some cool qualities I quite enjoy.
4. Zeromus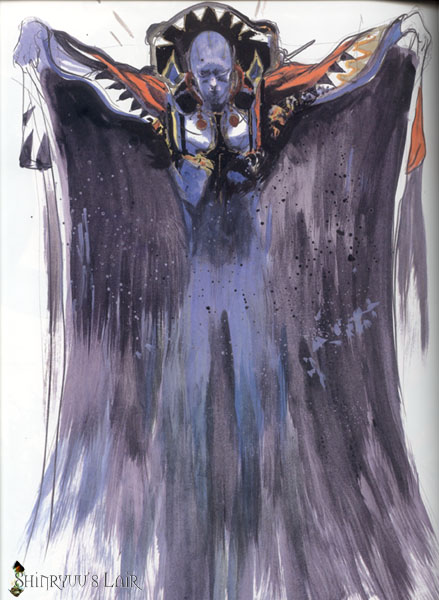 Difficulty: 9
Story: 3
Presentation: 8
Fun Factor: 7
Final = 27
Much like Cloud of Darkness, the challenge this fight brings is a large part of what makes this fight so memorable for me despite rounding out the 11th hour bad guy crew. Zemus/Zeromus is often a controversial and not well liked late addition to FFIV since Golbez was a far better antagonist, but he at least has more purpose and story behind him than CoD or Necron. His fight is also super cool since the first two stages are more scripted story fights before Zeromus appears properly. It also did the "former heroes return to give the player characters renewed strength" a little bit better than FFIII from a story presentation. Zeromus gets prop for being a bit of a wild card as a boss, since Big Bang largely does fluctuating damage as opposed to the brutal Flare Wave of Cloud of Darkness, but he can also remove party buff/debuffs, and can catch the player off guard with Bio and Meteor. He had a great cinematic flair and he was a pretty challenging fight overall.
3. Sephiroth
Difficulty: 2
Story: 9
Presentation: 10
Fun Factor: 7
Final = 28
Now it's time for the big guns, in terms of presentation, story and catharsis factor, no villain really beats #3 and #2 for the majority of FF fans. The whole game builds up to the big battle and in terms of presentation, Sephy doesn't disappoint and the fight is a blast if you let it. The first round involving splitting the party up into teams was a cool idea and I like the factors that gives him more health in battle. His secondary form is just visually awesome and has his iconic One Winged Angel playing while you watch Supernova decimate the solar system until the attack gets old and you realize it can't kill you. The Achilles Heel of this battle is how easy it is. Even without KotoR, just gaining a few of the Ultimate weapons and Final Limit Breaks will make this fight a cakewalk, no matter how much you power him up beforehand. Still, it's an enjoyable battle if you let it and the rest of the elements are mostly on point. In fact, Sephy tied with #2 on this list but the deciding factor for me was that I just don't like Sephy as much...
2. Kefka Palazzo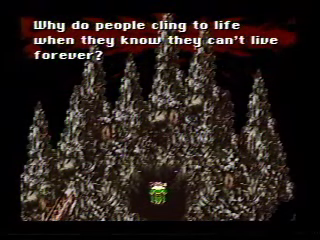 Difficulty: 2
Story: 10
Presentation: 10
Fun Factor: 7
Final = 29
No surprise from anyone that he made it this far, especally for me. Kefka is very simlar to Sephiroth in terms of being a really epic looking battle with cool mechanics, great music, and excellent cinematic presentation. Though in a simlar situation, Kefka's biggest flaw is how much of an absolute push over he is. There are more ways to triviliaze this battle than I could probably list; but I still feel the epic build up to this fight, the cool battle against the twisted forms of the Warring Triad, and the best final boss theme in the series, if not gaming, makes this fight shine despite it's shortcoming in the challenge department. I love choosing my party order and having defeated members switch out with back up characters if I was getting stingy with the reraise spell. There are a lot of ways to appraoch this fight, which still makes it really fun for me.
and without further ado...
1. Ex-Death/Neo-ExDeath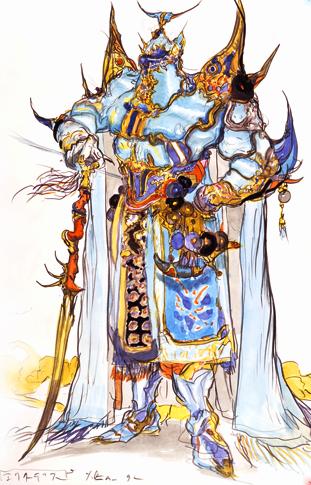 Difficulty: 7
Story: 8
Presentation: 9
Fun Factor: 8
Final = 32
Yes, that's correct. Every boss in the series, including fan favorites "Mr. One Winged Angel" and "The Psycho Clown" lost to an Evil Tree. Ex-Death only comes slightly lower than those two in terms of story and presentation, but mainly beats them out for being actually a challenge. He has a great story presence as a hammy evil villain with no regrets and his boss fight has awesome visual effects, trippy backgrounds, and devastating attacks. In fact Ex-Death's first form is probably more difficult due to having Erase Memory and a few other nasty surprises for an unprepared party. Also, unlike several of the previous bosses, Neo-ExDeath has fail safes in place to prevent some of the more broken builds in the game from triviliaizng the battle, which is much appreciated. Considering he's the last real challenging final boss with no major weakness to exploit or BS mechanic to make him an utter joke, he really stands out for me. The fact his challenge factor can vary depending on the various build you can go into the fight gives him a bit better replay value than several of the FF bosses. He is still one of my favorite bosses in the series and one of the most memorable for me. I knew Necron would be at the bottom of this list, and I was pretty sure ExDeath would top it, so no surprises there.
So, what do you feel about my picks? Have a different list? Then share and help rank the bosses.