I know it's been awhile since the last article, it has been difficult getting back to this particular game because this is the first FF title which holds a very special place in my heart. It doesn't help that I already wrote an article on this game a few years back for the 25th Anniversary Fan Project, which I frankly felt was a pretty good article. I almost decided I should just write up a few more elements from the original uncut version of said article and just release it for this series, but that just felt incredibly lazy to me and I felt I could do something more for this series of articles than just talking about how they are great, instead focusing on why they are great and how the series builds upon itself and other games in the genre. So I decided it would be best to take another look at the game and maybe expand on some points I made before, but bring it together into a larger narrative.
The other problem here is that we're entering my favorite generation of the series. As a whole, I feel the 16-bit era represents the best qualities and potential of the franchise, and while I agree it can be great to read something written by someone who really loves the subject, I also feel it can be really grating as well, especially if your views are very opposing. This is the other reason I didn't use the other article as I felt it was a bit too... "fanboyish" and it's sometimes difficult for fans to really put into words why something is amazing because they simply understand it to be so, whereas others will find it difficult to understand if they don't feel the same passion. Like listening to someone talk about sports when you have never cared, /watched/participated in your life. So instead, we're going to break this down a bit and try to explain why FFIV is so damn memorable. With that all out of the way, please enjoy this article and I apologize ahead of time that it is ten pages long...
**************************************************************************************************** ***
In 1990, Square released what would ultimately be the last numbered Final Fantasy on the aging Famicom. A new project had been set up for the next installment and this one involved going back to an early idea of what Final Fantasy was going to be. The biggest change was the game was going to be a foray into the Action-RPG realm, but due to internal squabbling, it was decided that Final Fantasy IV would not change genres mid-shift into the franchise's life span due to not feeling like Final Fantasy anymore. Instead, the developers decided to release this Action RPG as a new series known as Seiken Densetsu. With that finished, Square turned their attention to Nintendo's newest console, the Super Famicom.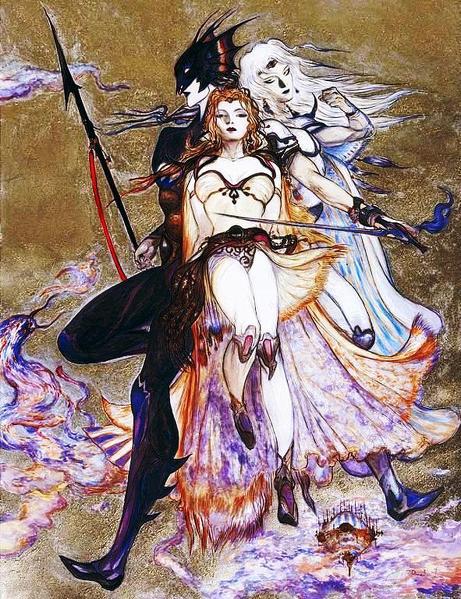 At this point I would like to draw the reader's attention to another interesting aspect of IV: the fact that all the characters in the script are given an impactful intro. Final Fantasy III played with this concept with its NPC characters, but Final Fantasy IV uses it as a chance to not only establish the characters on multiple levels to the player, but in the case of the Baron natives, it wonderfully establishes their interpersonal relationships with each other. The game accomplishes this through dialogue, action, musical themes and most importantly: what is and isn't said. Kain, Cid, and Rosa all think highly of Cecil, his demotion is treated as a serious matter by all, but many of them quickly try to sooth Cecil's doubts and worries, showing they all care for him, Rosa actually gets a different theme from the rest, signifying her uniqueness from her male companions, and the theme itself is a soft and emotional piece known as Theme of Love which plays when Rosa and Cecil are together discussing their feelings for each other and Cecil lamenting his conflicting loyalties. What's interesting is what is not said. Cidís dialogue gives the impression of having grandfatherly style affection for Cecil and Rosa, yet he never mentions Kain. Even as the game goes along, it's shown that while Cid has no animosity towards Kain, he doesn't share the same feelings for him as he does for Rosa and Cecil. Likewise Kain never mentions Cid in his introduction, but more importantly, he doesn't talk about Rosa either, even though it's later revealed that he has hidden feelings for her. Instead this works as a bit of foreshadowing to Kain's true relationship to Cecil, he admires him as a soldier and leader and thinks of him as his equal, but his animosity for him largely stems from Cecil's exclusive relation with Rosa and his beloved status among Baron, despite the backstory explaining that Kain and Cecil were raised as orphans together.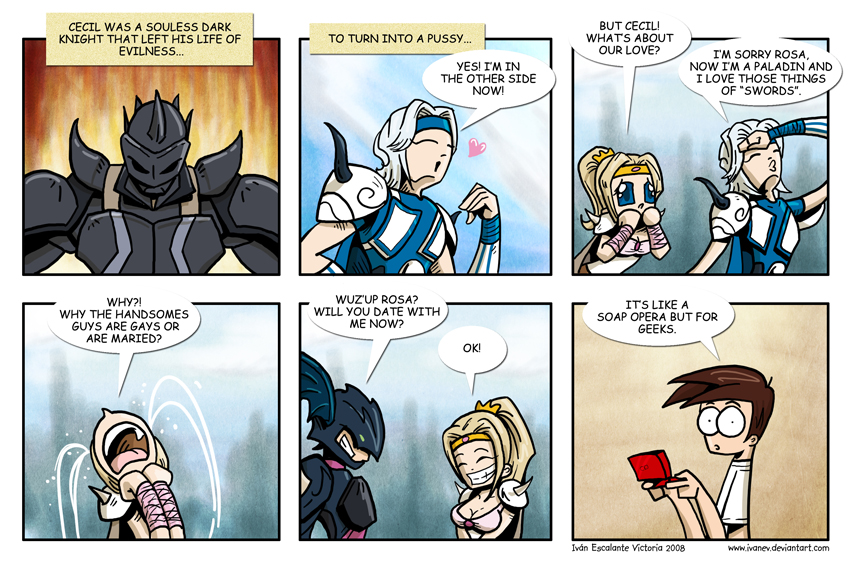 With all that said, itís not to say that FFIV is somehow a storytelling powerhouse. In fact the gameís plot is probably remembered for its overly melodramatic soap opera and bizarre plot twists stolen from Star Wars and terrible vintage Sci-Fi films of yester year. Yet in 1991, it was difficult to find a game that told a really compelling story that wasnít ninety percent in the gameís manual. IV ultimately found a way to touch people despite these faults, as Nomura has mentioned in interviews that one of the goals he wanted with FFVII was to create a cast of characters fans still talked about like with FFIV.
Because of this, characters donít really change classes within the game barring a certain exception, but after playing through the class changing shenanigans of FFIII, it would be boring to trudge through a redo of a game like FFI where the player is stuck with the same party the whole game. Instead, the game changes the party based on the part of the story the player reaches. This adds some interesting dynamics to the gameplay as the inability to choose the party often times leaves the player in a situation where they may be using a less than ideal party set-up. Still, not only is this a clever nod to FFII which constantly switched around the fourth party member, but this also added some more tension to battles and exploring dungeons since the player would never be too comfortable at first, again going back to how ATB by its very nature being a system to leave the player feeling vulnerable and less in control.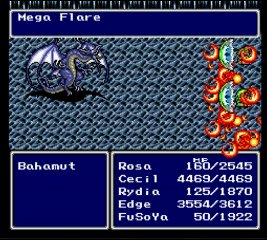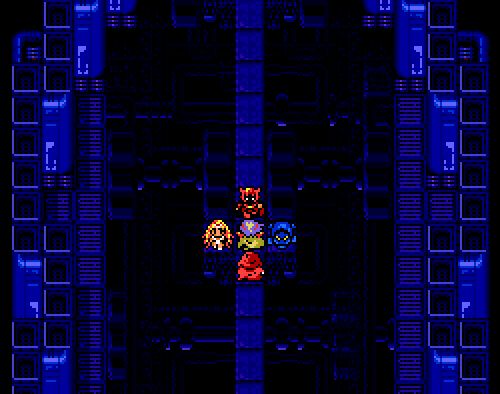 Speaking of dungeons, FFIV tries a few really clever ideas with dungeon design compared to the mazes of FFI and II or FFIIIís love of invisible paths. While it keeps some of these elements the game toys around with a few unique ideas. The three most notable aspects are damage floors, in which the Float spell is used to bypass and save your party precious MP and potions while traversing the dungeons they lay. One dungeon decides to give an ode to Dragon Quests Mimic Chest monsters by having an entire dungeon dedicated to having Door Monsters and the final boss being the infamous Wall Monster boss. The most notorious unique dungeon is the Dark Elf Cave, or Lodestone Cavern in the new translations, which featured a gimmick where the characters would be inflicted with paralyze if they worse any armor with metal in it. This might be one of the coolest dungeons in the game despite so many fans hating it. This is because the game forces the player to use probably one of the weakest party set-ups in the game and removes Cecil from his usual active role as damage dealer to being a mini-Rosa. Itís that real sense of keeping the player on their toes that makes FFIV exciting despite everything on paper saying it shouldnít be.
One aspect often overlooked by FFIV is how balanced the game is in comparison to the rest of the franchise. While itís not impossible to break the game, Ito did some interesting things to keep it within reason. This is because damage is calculated by a three tier system instead of a dual one like almost every other entry, and Ito made sure that the one stat that really matters is the one dependent on the other two. Damage is calculated by a characterís base stats, their equipment, and the attack/defense modifier which is derived by stats and equipment. This last stat pretty much determines everything and only rises based on getting several points in a stat and what equipment the character is using. By balancing it like this, even if the player over-levels a bit or finds a pretty strong weapon early in the game while the character is still weak; the results are not nearly as spectacular as one would hope. This helps keep the gameís difficulty curve in check, though players who know where all the best loot are and power level can still make this game a cakewalk. Another element of the gameís design that is quite clever is the enemy A.I., which is programmed to counter the player when they use specific moves, preventing the player from sometimes spamming overpowered moves. All these elements together give FFIV a reputation for being one of the last challenging entries. Granted it is still a cakewalk compared to its 8-bit ancestors, but IV may be the last legitimately challenging entry that doesnít have to resort to cheap tactics or unfair game design that places the player at a disadvantage in order to give a sense of artificial difficulty.
Finally, FFIV is the point where Nobuo Uematsu truly started to blossom as an artist. The enhanced audio capabilities of the Super Famicom/Nintendo allowed him the ability to expand the range of what could be done with the music, and eventually he would pioneer a new method of utilizing MIDIís to create a sound that comes close to mimicking real instruments. While the technology was not there yet for IV, Uematsu composes a strong score befitting the more narratively driven work that IV had become. While the player is introduced to the game by the classic Prelude theme on the title screen, the game opens with Cecilís theme, The Red Wings, which is a dark and foreboding piece with its heavy use of percussion and military march stylings, but held together by a melody line that is softer and more heroic. Even the Kingdom of Baron has more of a military feel to its musical theme to showcase to the player what the place stands for. With these harsh military marches and dark themes, itís almost a sense of relief when Rosa appears with the Theme of Love playing, which starts as simple soft melody before cascading into a more operatic sweep. Even this early, players could sense that Uematsu was pushing the hardware into a more symphonic scale that is more fitting for the larger than life character the franchise was shooting for.
The music of IV helps to elevate IVís story and feelings. Unlike the absorbent theme of the 8-Bit era, IVís themes often gave direction to the feel of the story. The Main Theme of FFIV, which plays on the world map, starts with s sense of urgency not felt in the older entries, but eventually it loosens up like Cecilís theme and eventually expands to a theme of wonder, beautifully melding the idea behind the map themes of II and III together. Taking a cue from Star Wars as the creators always do, Golbez is introduced into the plot with Uematsuís own take on the Imperial March theme, being a perfectly sinister organ theme that lets the player easily identify him as not only the villain but someone to be feared. IV actually utilized character themes to help the player keep track of the cast of characters, but also to again, add layers to the story and cast. The first few seconds of Cidís theme made you know something fun was about to happen and lighten the mood, Rydiaís Theme or Edwardís Melody of Lute theme added a certain tragic depth to the moments they plays as Rydia forgives Cecil and tells him her name or as Edward slips away to quietly mourn his wife Anne. The soundtrack even introduces unique battle themes to display importance like Battle of the Four Fiends to make the player feel tense as they battles something usually reserved for end game bosses. IVís soundtrack laid the groundwork for a lot of the audio design choices that would be a hallmark of the Golden Age of the franchise, while also giving players a taste of Uematsuís budding growth as one of the premier composers for video games.
In a lot of ways, itís no surprise that IV is one of the most well regarded ďclassicĒ entries across the world. In many ways, Final Fantasy as most people know it began with this entry. The more cinematic design, the focus on character over high adventure, the introduction of a retooled battle system that would define the series, clever innovations in enemy A.I. and dungeon design, as well as the better utilization of the music as a an extension of the characters and story would all become hallmarks that the series is known for. Despite how simple and silly the game is by todayís standards, there is just something magical about FFIV. Sakaguchi once said that the reason why some games resonate so well with fans is because they can feel the love and effort the designers placed into it. I feel this is the case for FFIV, as the game proved to be a real turning point for Square, as the game defined what the series could be to the world. In my own experience, despite starting on later RPGs with more robust mechanics and stories, there is something about FFIV that Iíve always found entrancing. Perhaps itís just nostalgia but I really do feel IV is a magical experience that every gamer should play.