A big attraction of Square-Enix's PAX East booth was the Deus Ex: Human Revolution Director's Cut. This title was announced only 3 days before PAX East started and is only for Wii U. This version of the game includes extra content, information, features, and graphics. It also takes advantage of the Wii U's unique controller.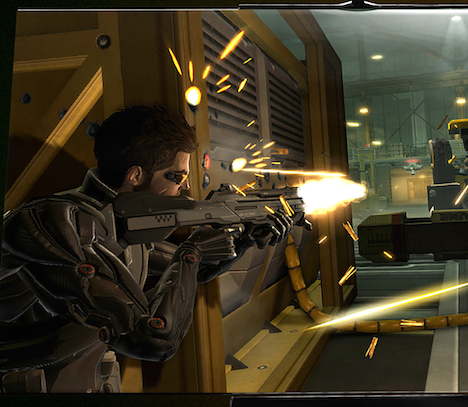 Jensen is back, and looks better than ever!
Remakes, remasters, special editions, and ports are a commonplace throughout the industry nowadays so it was a natural reaction for me to approach this announcement wearily. It was easy to see this Director's Cut as a simple port to a new console, trying to tout new content to also entice anyone who had already picked up the game. After digging into the game, Square-Enix's Eidos team appears to have proved me wrong.
Starting with the simple changes: the Director's Cut version's visuals are improved. The game's rendering system has been completely redone. This perfects the game's lighting system, fog, and shadows. The developers also applied visual improvements from October's DLC "The Missing Link".
However, the changes they added went above and beyond visuals. The Director's Cut version pays careful attention to issues with the original game and fixes them. Enemy AI has been reworked so you can evade enemies once you are seen. Every boss fight has been completely redone to include ways to win via hacking or stealth. In fact bosses can be defeated
without firing a single bullet.
Stealth gameplay is vastly improved in this edition of Human Revolution
Time for a confession: I did not complete Deus Ex: Human Revolution. During my experience with the original I found myself continually frustrated by seemingly being punished for wanting to utilize a stealth role. Being seen was a death sentence since my augmentations did not prepare me for firefights and boss battles made this disparity even larger. The enemy and boss technical changes are some of the clearest examples that I have seen of a company paying close attention to fan feedback to create a better product. Instead of just implementing flashy add-ons the Eidos team grabbed flaws in the game by the horns.
Hacking feels much more natural on the Wii U's GamePad!
I was also impressed by the use of the Wii U controller. Often on the original Wii and DS I played games where I completely abandoned optional features that utilize the unique abilities of each system. Many games use of the touch screens or motion controls felt tacked in out of obligation. During my time with the demo for the Director's Cut I didn't get this feeling. Menus were carefully implemented into the GamePad. The above menu was named as Jensen's "Neural Hub" and is fit into the storyline. Hacking, Radar, and Quick Inventory have all been comfortably integrated into the GamePad, removing the intrusive feel of the use of menus.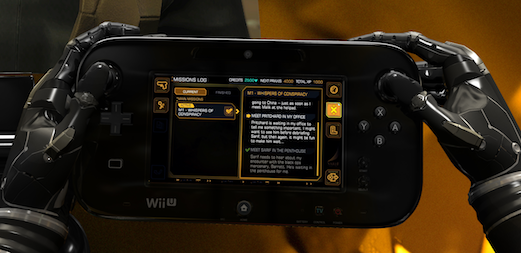 It's simple to check what you were supposed to be doing!
Some entirely new features have been added into the GamePad as well. Grenades appear on the GamePad, the player can then swipe the grenade icon to throw the grenade back at enemies. The developers have added a "Tactical Pattern-Recognition System" with this you can display Jensen's view through the GamePad touch screen. Moving the GamePad around will move the camera in the same way, using the gyroscope. The NPC closest to your reticle will have an extra information panel appearing over his head, giving precious information like the items carried, total health, armor type and state (unconscious, dead, normal).
Rounding out the game is a New Game+ mode, allowing you to carry over the hard work you put into your character to the beginning of the game. Energy cell recharging has been rebalanced to allow for more use of augmentation. I've always been a huge advocate of New Game+ in games so I was happy to see its implementation and rebalancing of the recharge allows for less worry when using your cool Jensen powers.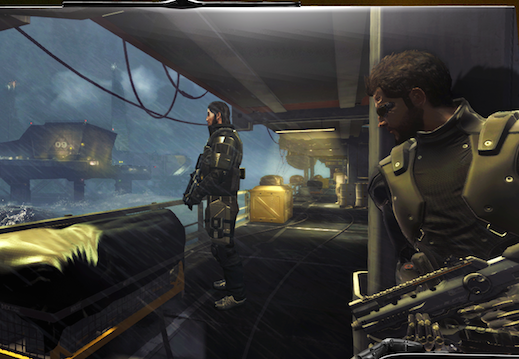 Jensen is poised to strike, good thing he has battery!
Aware of how hardcore some Deus Ex fans are Eidos has added a lot of extra material capable of satisfying any super-fan. This list is comprised of: a 45 minute "Making Of" video, a digitized version of the strategy guide available on the GamePad, and 8 hours of Director's Commentary that can be toggled during gameplay.
Deus Ex: Human Revolution Director's Cut is a carefully crafted expansion. The enthusiasm of those who worked on it was clear when I talked to people involved with it at PAX and I can see how the version has reaped benefits from the ambition put into this more complete Deus Ex. Although I am normally a critic of quick rereleases as a way to milk the last out of a title, this Director's Cut was clearly made out of passion and not for continued prosperity.