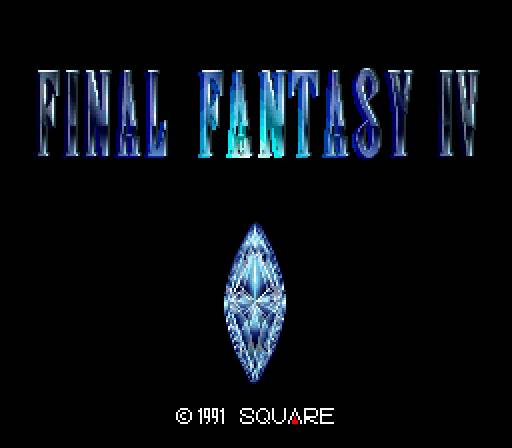 I was one of the few lucky US gamers that got introduced to RPGs in the early days of video games. When I first obtained my Nintendo Entertainment System, one of the first games I got was
Dragon Warrior
. I also remember an ancient version of
Dungeons&Dragons
for the PC. When I say ancient, I'm talking about my first family's PC without a Windows OS.
In both those games, you spend most of the time walking around fighting the same set of monsters for an absurdly small amount of experience points and gold, but the eventual pay off of leveling up and progressing is what made those early games so addicting, as simple as they were.
Since my eyes were peeled for RPGs back then, I was also one of the few lucky gamers that experienced the first
Final Fantasy
when that installment of the series was the only one to exist in America. Back in those days, my cousin and I hung out frequently. In fact, we stayed up all night collaboratively beating
DW
, much to my parents chagrin.
Anyway, we were thrilled with the original
FF
just by seeing the box at a local video rental business that my Aunt took us out to one day. She was nice enough to pick up the game for my cousin, no questions asked. When he and I dove into the game later that day, we couldn't believe what a huge leap
FF
took compared to any other RPG we have ever encountered. From that point on, I knew what my favorite video game genre was before I even knew what the hell that word was.
A mere couple of years later, both the Super Nintendo Entertainment System and
Final Fantasy II
, which we all know by now is truly
Final Fantasy IV
, entered into my life.
One of the many ways I know a game is going to be one of my favorites is if it intimidates me. If a game is built properly in my eyes, the scope of it will seem much larger than it actually is upon first impressions. I will certainly desire to play said game, but I will be afraid to because I might not be able to ever beat the game. It's just too big! Look at what this game is capable of! There's no way little ol' me can conquer THAT!
Final Fantasy IV
was the first game to ever give me that feeling. It was the first game I ever experienced that caused me to look at a video game so differently. In other games I was only controlling an avatar. I made Mario jump. I caused Mega Man to shoot.
FFIV
invited me into an actual
world
.
The characters had actual personalities and growth. The story wasn't just about fighting a great evil
necessarily
, but conquering your own inner darkness (or rather Cecil's, mainly). The gameplay caused you to think on your feet with the Active Time Battle system. The music was breathtaking, professionally composed, and remains one of the greatest video game soundtracks ever, in my opinion. All of these elements and more were unlike anything ever seen in video games before, for most audiences.
Sure, the game seems very cliched today, but so do many of the best works of art in any type of entertainment. That's how they become a cliche in the first place. Something has to raise the bar.
FFIV
did.
I believe that almost every gamer has "that one game" that is tied into their memories very deeply. It may or may not be their favorite one of all time, but playing it usual harkens back to a simpler time in their life. If it isn't obvious by now,
FFIV
is that game for me.
After I first witnessed the game at the very same cousin's house mentioned earlier in this story, I wanted both
FFIV
and a SNES. Badly. Any gamer knows what a pain in the ass it was to convince your parents that you wanted ANOTHER game console. To be fair, my parents were more understanding than most, but that didn't mean they were ready to drop a few hundred dollars so easily.
A few months after I clamored for a SNES, and it didn't even arrive in time for Christmas, I began to lose hope. Out of nowhere, my grandma randomly decided to take me on a trip to Funcoland and pick up the coveted game console with, ahem,
Final Fantasy II.
My mother was upset that grandma made a decision to get me a new console like that out of nowhere, and she feared that my grades would suffer as a result. It was decided that the SNES and all related items would stay at the house of my great-grandmother, who I called "Gram" for short.
I hung out there fairly often in the first place, so I wasn't upset with the stipulation that my mother put on the system's location. Plus, I had a friend who lived across the street from Gram's that had a Genesis! With our powers combined, we now had access to 16-bit games in one area!
My buddy also fell in love with
FFIV
as he progressed through his file of the game. Once we were both familiar with the story and had both completed the game, most our time together while playing outside continued the story of
FFIV
with our wild imaginations. I played the role of Cecil, and he played the role of Golbez. I don't remember what crazy story we came up with, but I'm sure it was more dignified than
The After Years.
However, our
FFIV
adventures would come to a close a few years later. Before I knew it, Gram passed away, her property was sold by my family, the house I had so many precious memories in was torn down for a new one, and my friend from across the street and I would grow apart soon after. All of this hit me
very
hard.
As a result, I didn't take
any
form of personal loss well from then on. I would do this weird thing were I would express how I felt about a sour situation, but truly emotionally shut down deep inside myself. From there, I managed to accumulate many more personal faults as time went by.
Four years ago I used to have a nasty drinking habit. I know those who are familiar with me on the forums know that I am still quite the drinker, but back then it was far worse. A buddy of mine and I used to get dangerously hammered four or five times a week. I'm talking about blackout drunk, here. We had good times, but more often than not some inner demon would come out and I would be an emotional wreck.
Anyway, one of the blackout drunk nights I apparently decided to start an emulated game of
FFIV
on my friend's PC. The next day I get a call from the same friend. He asked if I was alright. When I inquired why, he informed me that while playing
FFIV
, I kept on murmuring to myself about how, "I'll never be this happy again."
Right then and there it hit me that I needed some serious help to sort out my issues. I have done far worse things as a result of way too much drinking combined with an emotional breakdown, but the fact that I was letting the dark part of me be miserable
while playing my favorite video game
was the straw that broke the camel's back. I don't care how much liquid depressant I have in my system--that shouldn't happen.
One of the biggest lessons that
FFIV
imparts on the player is Cecil owning up to his crimes and his personal demons by association. Though my personal demons weren't
exactly
about killing innocent wizards and pillaging a town, I was still upset with myself for
many
reasons. Failing to embrace such an important lesson from my favorite video game was one of them, as unimportant as that sounds in the grand scheme of things.
Since Mt. Ordeals isn't available to scale in real life, I decided to go see a therapist. There I learned how to deal with my issues over time. One of the more minor, but key issues was the realization of how I was corrupting my good memories. Instead of allowing something like
FFIV
to bring me back to when I had fun with my friend across Gram's street, or generally positively remember her and the house, I let all the negativity I built up over the years focus on the fact that I lost all of that.
That's no way to live life.
I recently replayed
FFIV
. For the first time in ages, I felt like I was truly enjoying myself. There was no emotional weight attached, wishing that I was a kid again because of the misconception that my life is worse now. That night when I was playing
FFIV
blackout drunk may have resulted in the first time I noticed that I was turning something I love into a bad experience, but the genuine feeling of elation recently told me that I used to feel such pointless anguish for quite some time, underneath it all.
While I genuinely love
FFIV
for technical reasons, I think a big part of why it's my favorite game is because of the good memories it is attached to. Sure, I failed for some time by letting myself give into my own darkness, but I felt like I have redeemed myself since then. If there is anything I have learned from
FFIV
besides Cecil's own redemption, it's that life's problems don't stop just because you have overcome an obstacle. I think far too many people expect everything to get better if they can accomplish something like that.
Cecil's adventure and hardship didn't stop at Mt. Ordeals, and I doubt I'll never face another challenge just because I have improved myself in recent years. Thank you,
FFIV
for being there for me through it all, and what is yet to come.