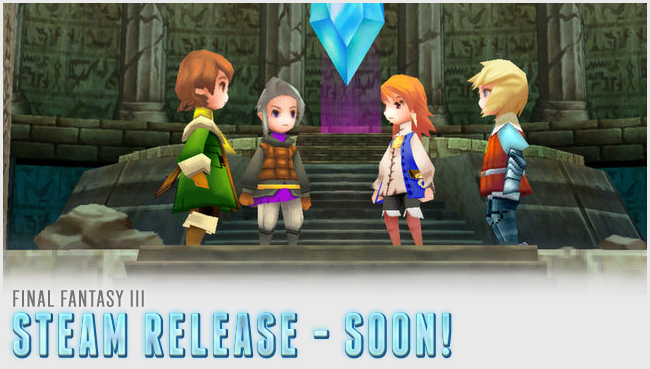 SQUARE ENIX announced today that FINAL FANTASY III will be making it's way to Steam for Windows PC in the not so distant future. In true, vague fashion, our beloved SE were scant on details about an release date other than "it will arrive soon" with "optimized" new 3D visuals and story sequences. The Steam version will also include support for achievements and Steam Trading Cards.
First released in Japan in 1990 for the Famico, FINAL FANTASY III didn't make it's way to western shores until 2006 with it's Nintendo DS remake. Several homages to the game have also been placed in FINAL FANTASY XIV: A Realm Reborn, most notably with the Crystal Tower raid instance. FFIII is currently available on the Playstation Network, Wii and Wii U virtual consoles, Android and iOS. It's still not clear if the Steam version will be a port of these versions, or a brand new version. The safe money is on it being a port.
For the system requirements, check out the
Steam Store listing
.
Still on the fence? Well here's an old trailer to get you pondering.