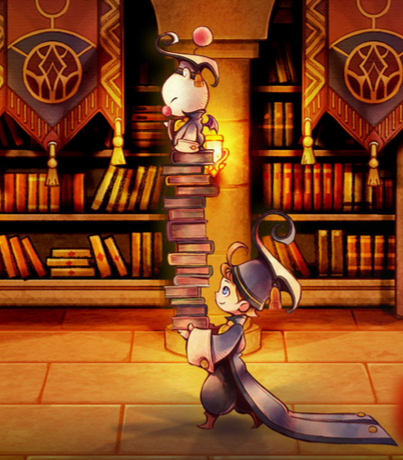 Final Fantasy Record Keeper was a Mobile game limited to Japan, until now! Square Enix announced this morning that Record Keeper will be heading to western shores. Don't groan just yet at it being a mobile game. This free 2D game will take you through important moments of the Final Fantasy series in a surprisingly fun battle system reminiscent of the classic ATB battles of the past.
As
we discussed
when the Japanese version came out, the story is an interesting one. You play as Deci, the prized Apprentice of Dr. Mog. They are historians working for the Ministries of History who have preserved moments in time in paintings in an effort to maintain world order.
With Dr. Mog's magic, Deci is able to jump into the pictures and relive important moments in the history of Final Fantasy by entering those "memories". By clearing various dungeons, you'll be able to encounter past protagonists. So you'll be able to use your favorites to fight alongside one another. The further you get through each world, the more characters you'll unlock, allowing you to build your own dream team.
Reception in Japan for this series was surprisingly great. It's popularity is part of the reason it's coming to western shores. If you pre-register on
the official site for Final Fantasy Record Keeper
you can get early characters, such as Tidus from Final Fantasy X, that aren't normally available until you complete quests in the game. Take a look at the announcement trailer for a better idea of how it works.
The game will be available on iOS stores and Google Play. Will you be getting it?