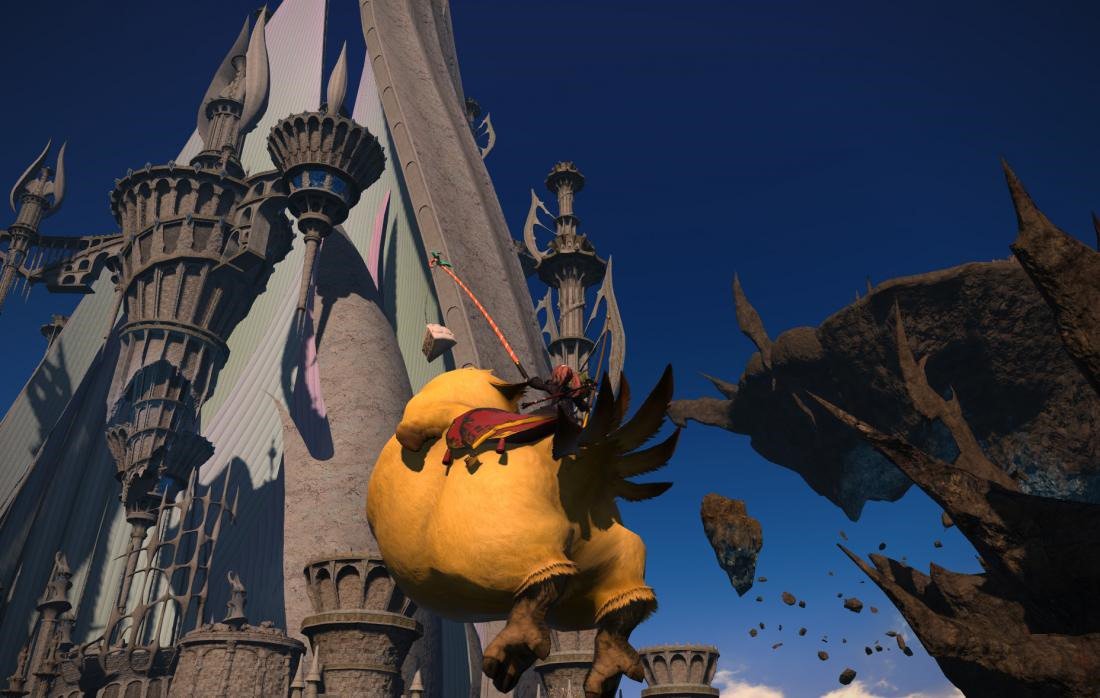 Director Naoki Yoshida of
Final Fantasy XIV: A Realm Reborn
had a birthday earlier this past month. Instead of eating cake and throwing confetti with his friends and family, he's been hard at work making the soon to come expansion
Heavensward
absolutely perfect.
Final Fantasy XIV: Heavensward
will be introducing flying mounts to this ever expanding MMO. Expected are traditional flying type mounts but even more exciting is that of the overweight, cake loving, Chocobo variety. In a "leaked" screenshot he provided, we get to see our favorite fat Chocobo trying his darndest to fly, of course with the help of dangling cake.
Here's Yoshida's message in full:
Hi everyone. Producer and Director here!

Thank you very much for all your comments wishing me a happy birthday! To receive such well-wishings from you all is truly an honor as both a game developer and an MMORPG manager.

Even on my birthday I haven't been at home eating cake; I'm currently being chased for the final checks for the master version of Heavensward! As thanks for all of your comments helping me celebrate my birthday, I thought I might as well leak a screenshot….

All of us here at the development team will do our very best working on Heavensward for the release. Not long to go now!

I LOVE "YOU" GUYS!
Final Fantasy XIV: Heavensward
will be released on
June 23rd
so if you haven't preordered
the collectors edition yet
, get on it! What other type of mounts would you like to see flying around in Heavensward?