Living in Central Europe has its share of drawbacks. To an avid JRPG fan such as myself, the biggest one was growing up in a place where the only console available was a bootleg version of the NES called a "Pegazus". Needless to say, I was introduced to the genre fairly late, with Final Fantasy being my gateway drug. While digging through information about this newly discovered series, I came across Dragon Quest, to which FF reportedly owed a lot. The premise did not seem appealing enough at the time, however, so I just gave the series a pass and only decided to try it when DQ VIII came out on the PS2. Though I sucked at it, and hard, I still enjoyed it, but not enough to really try and dig into this series. Well, this changed recently, as I noticed the original six DQ games are available on iOS. I promptly downloaded it and beat it in two days. Here's what I thought about the experience.
Going in, I knew Dragon Quest is simple. It's a small world with a basic story where your level cap is 30 and you control only one character. There are no dramatic twists – from the beginning you know you have to save the princess and defeat the Dragonlord. And that's really it. There is no narrative to speak of really, and in that regard, Dragon Quest was exactly what I expected. Which, surprisingly, was not a bad thing. With the overabundance of melodrama so prevalent in JRPGs nowadays, it was really refreshing to enter this open yet small adventure and just fill in the blanks with your imagination. Throughout the game, I felt this was actually my own personal adventure, and every level I gained was a huge achievement. My imagination is really what helped me get by so fast, as you really need to stop and grind for substantial amounts of time. The game is not difficult at all, however, as long as you are properly leveled and equipped. This is not Shin Megami Tensei where the bosses will just pull mean strategies out of their asses. If you devote your time to grind, you shouldn't have any trouble at all. Simple and straightforward really sums up everything about the game.
Dragon Quest plays really well on the iOS. The updated graphics and music are quite nice, though I really have no comparison to the original NES release. I would also like to note that I am incredibly grateful to Square Enix for making the game vertical. Not only does the virtual controller not clutter the screen because you can just see so much above and below, but the game can be played with one hand, which is great news since winter is almost here and I can play on the go with only one hand being exposed to potential frostbite.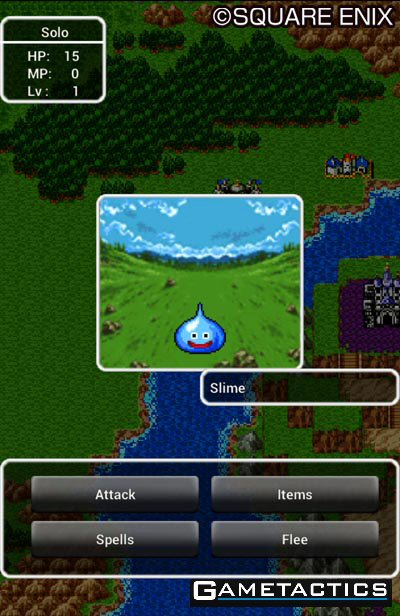 The monster designs are extremely memorable thanks to the simple but effective style of Akira Toriyama. The music is done by Koichi Sugiyama and, while I can tell that he is a classically trained composer who knows what he's doing what with the layered form his tracks have, his compositions are way too neoclassical for me to enjoy, but that's a matter of personal taste. I especially disliked all the town themes, but the world map, dungeon, and battle themes were all pretty good. Still, I guess this is part of the Dragon Quest charm that people enjoy so much, since Sugiyama is one of the unchanging pillars of the series, so treat it as a very personal nitpick. I also did not care for the script at all. The entire game is told through quasi-Early Modern English and it really made me cringe (especially since the writers sometimes seem to be unable to tell the difference between 'thee' and 'thou' which is criminal). The names of the monsters, on the other hand, are filled with puns that make me wince. But then again, I know my attitude towards that is more the exception than the rule, so I suppose it can be enjoyed by a lot of people.
Overall, I was surprised with how much fun I had, since I got exactly what I was expecting. Dragon Quest is very much the most traditional RPG you can imagine, but paradoxically, playing it now for the first time feels refreshing and engrossing. If you haven't tried it yourself yet and are curious about this landmark game that gave rise to all other JRPGs, I highly recommend it.