So seeing as it is Valentine's Day this week, I figured I'd take one for the team and go on a few dates with some Final Fantasy characters. It took me a while to track them down, but eventually I found their preferred haunts and plucked up the courage to ask them out. Here is what happened...
Seifer Almasy
I met Seifer on the popular dating app, Tinder. He seemed really cute, and let's be honest I do love a bad boy. We agreed to go to Deling City for drinks and a meal at the Galbadia Hotel. I was really looking forward to it. For our date, considering where we were going, I dressed up a little bit more than I usually would. I wore a bodycon dress, flat shoes, and a sleeveless jacket. He turned up in some smart-ish trousers, and a grey trench coat. I'm pretty sure it's the exact same outfit he was wearing on his profile picture. I suppose I should be glad he actually looked like his picture... Blurry and hard to look at.
It's also worth mentioning that he turned up 20 minutes late, and I was stood outside the hotel for this entire time. He was very charming, if not a bit arrogant. But then, it's hard to tell the tone of speech bubbles. (What is with that?) He had booked a pretty great table though and managed to get us a bottle of Champagne. The food was great at the hotel, we both had pasta and for dessert we 'shared' a molten chocolate cake (he quickly ate most of it).
After we'd had our meal and watched the entertainment (and we had finished the bottle of Champagne) we were both feeling pretty loose and we ended up chasing each other through the park, and wound up breaking into the mini golf course. Before you roll your eyes, nothing saucy happened. We really did just play a game of pretty drunken golf, and I lost a shoe.
---

My overall rating of Seifer as a date is good. He's good looking, but my gosh does he know it. He doesn't really know how to dress himself for a date, but we did have a great time. My sides are still sore from laughing. He's quite immature and arrogant, but I didn't mind. I think deep down he'd make a wonderful partner - but he does need to grow up a little bit more first.
---


Quina Qu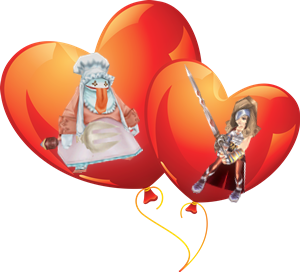 I don't know where to start or how to explain this date. I met Quina on Match.com, we bonded over a love of gourmet food, and since a new restaurant had opened in Alexandria I figured it couldn't hurt to meet him/her (I'm still not sure!). For our date, I dressed a little more casually, in tailored trousers, heels, a band t shirt, and a red blazer. I waited outside of the restaurant for Quina for quite some time, only to then see them sitting in the restaurant. When I asked the Waiter how long they had been there, she answered me that Quina had been in the restaurant for an hour already, and had cleared out 4 courses.
I took my seat at our table, and introduced myself - it felt really awkward because Quina was clearly not paying me any attention and in fact they didn't say a word. They were dressed in a piniform style dress and a scruffy apron. As for whether or not I was sexually attracted to Quina. Well, not at all. I couldn't even bring myself to eat anything so I left. I don't think they realised. On my way out of the restaurant however, I bumped into this beautiful soldier, Beatrix. She had this eye patch which made her look so damn sexy. She was really feeling my look too, and we ended up getting coffee together. I'm happy to say it ended with a kiss or two in the Theatre District.
---

My overall rating of this date was awful. I wonder why on Earth Quina is on Match.com? They had no interest in me being on the date. I did get to meet Beatrix though, and we're going for a second date soon, so all was definitely not lost there.
Balthier Bunansa

Balthier is someone I know from around, and he happened to ask me out for a date. He said he wanted to take me for a ride on his airship, the Strahl. I agreed, as he is so very charming. I wanted to look really nice for Balthier, so I chose to wear a peplum blouse and a pair of skintight jeans, with my favourite heels. I made sure my eyebrows were on fleek as well, as a well groomed man like Balthier would surely notice.
When I boarded the airship, I could smell food and I saw that he had laid out a picnic style dinner with wine, flowers, and chocolate. This man
really
knows how to impress, but I couldn't help but feel it was all a bit
too much
for a first date. We had our dinner, which, even though it smelled amazing, was rather underwhelming. The wine was great though. Every word that came out of Balthier's mouth was pure poetry, even if his lips seemed a little out of sync with what he was saying. He has a little bit of an arrogance that I do find attractive. He has a lovely accent too, so I just allowed myself to enjoy
him.
We flew around for a while, and it was a great date, but after all that wine and food I did start to feel a little airsick. Did I kiss him? Oh a lady never tells... I think had Balthier taken me somewhere else, the date would have been even better. He seemed to be showing off rather a lot, and he didn't need to. He's already hot enough for me to want to ride him into the sunset, but it was all a bit theatrical, and I do feel like I didn't see the real Balthier.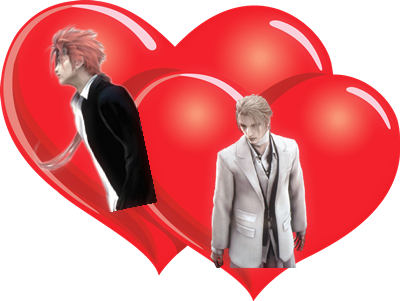 Rufus Shinra

I met Rufus while schmoozing at a corporate event in Midgar recently. I was blown away by him - he certainly has a charisma and confidence that only a rich, white male has. He invited me to join him in the Golden Saucer. Believe me, for this date I got dressed up to the nines. I wore a full length gown with lace sleeves. I have to say, on a scale of 1 to 10, I was looking like a banging 11. He arrived with a small entourage of bodyguards, his 'Turks'. I do have to admit, that the one with the red hair caught my eye with a sexy smirk. I'm telling you, if it doesn't work out with Rufus I might have to get his number. He's definitely my type.
We played some of the games, and somehow Rufus just won every time, and nobody questioned him. Things eventually began to heat up in the Ferris Wheel, we spoke about our lives, and Rufus was really interested in mine. He did have a slight case of wandering hands though, his hands stroked my leg, and found their way to my cheek and hair. It was very flattering how much attention he was giving me. If he wasn't such an evil capitalist, I might have kissed him.
Our date ended, and he met back up with his entourage. I slipped my business card to the red haired one with a wink. (A girl has to try, right?)
This was the most expensive date I went on, Rufus spent thousands of gil on the games, but actually very little on our date. He was a bit handsy too, and you can tell he's used to getting what he wants. I don't think I'd date him again. He's quite an attractive man, but ultimately all cash and charisma, and very little substance.
Oerba Yun Fang
Wow. Do you know when someone just plain takes your breath away? I saw Fang's picture on OKCupid.com, and knew I had to ask her out. We decided to go to Bodhum for fish and chips, as she said it was the absolute best place to get them. After having such fancy dinners all week, I decided some low key eatery would be an awesome idea. For this date, I chose a sundress and sandals, and I'm glad I did because the weather was wonderful.
Fang was on time, greeted me politely, and damn, she looked amazing in HD. We sat to eat our lunch, and then she loosened up. I couldn't believe how nervous she was at first, but once she had eased herself, she opened up and was wonderful company. She was brilliant at telling jokes and kept me laughing. She ordered us a round of beers in and we began drinking them down at quite a good pace. She's hard to keep up with, and I felt myself getting more and more drunk. By the time we had shared stories, the sun was going down, and music began to play louder - and there was even a fireworks display.
Fang dragged me up to dance, she wasn't the best dancer, but I didn't mind, she was hilarious and great company. Fang was just looking gorgeous in the light of the sunset, and I couldn't help but go in for a kiss - she reciprocated.
---

Wow, Fang was a great date, and actually tonight is our third date. I can't wait to see her again, and I think I may be falling for her just a little bit. We've agreed to keep things really casual for now, so I do hope I'm not catching feelings for her. It's hard not to though, she's 100% my type.

So my overall conclusion after a week of dating this weird and wonderful bunch is this - it's exactly like the real world. Sometimes you think you've reeled in a 10 out of 10, but upon closer inspection you can see that their pixels are all over the place, their voice acting is terrible, and they might just be a villain in disguise... Proceed with caution!

Happy Valentine's Day!