Four years ago, Square Enix decided to continue the legacy of Dissidia: Final Fantasy - a legacy of a massive crossover between the characters from all numbered games - as a rhythm game. While many were baffled by the decision to shift the genre in such a dramatic fashion, fans were quickly won over. The adorable art style, unlockable characters, and the timeless music from games I to XIII that we've all grown to love so much has made this game an instant classic. The lack of any kind of forced storyline was probably also another saving grace. I was personally instantly smitten by the game, as I felt as if all those years of rhythm training at music school had been leading up to this moment, when I could finally tap it out to all my favorite musical pieces. Theatrhythm was an amazing experience.
Later that year, in December, SE released this game on iOS and reactions were... well, less than pleasant, let's say. The game came out as a free app, but with only the thirteen basic characters available and no more than two musical tracks to play around with. All the unlockable characters and other songs were relegated to paid DLC. For that, this version was quite reviled, especially since it didn't happen too long after that
mobile game that must not be named
. Still, it's not like this version was completely without merit, as introduced the Quest Medley mode, which would later be greatly expanded on in...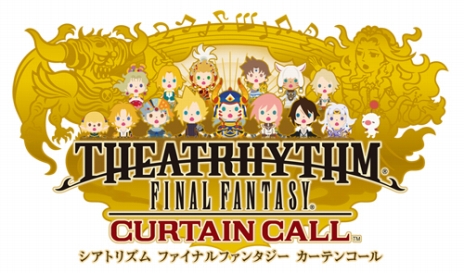 Curtain Call did everything that the original did, but better. Less emphasis is put on EMS stages, which were arguably the least enjoyable music stages in the original. The game instead comes with a much larger amount of music from the get-go, including pieces from most sequels and spinoffs, with music from main titles expanded to incorporate music from XIV. There are also more characters to unlock. While there is a substantial amount of DLC, there's enough content on the main game to keep you entertained for months, and the additional content is really amazing in quality, including music from other beloved SE RPGs such as Chrono Trigger, Xenogears and Romancing SaGa. You can also download additional characters this time around, but there's only a handful of them.
Quest Medley is properly expanded on now, with you being able to travel a world map with music stages moving you around until you reach the boss, always keeping you on edge when it comes to which track comes next. Quest Medley also incorporates DLC tracks, so if you're into those, you can count on a lot of replay value. And the last big addition to Curtain Call was the Versus mode which allows you to face your friends via local wireless or wifi to see who can tap the rhythm the most precisely. It is much more fun than it sounds on paper, as the gameplay is actually quite different to offline mode. I am also undefeated. All those who wish to face me, here's my friend code: 5343-9356-0497
When it comes to the future of the series, it looks like SE intends to keep making these in one form or another.
As Night Fury recently reported
, a new Theatrhythm game is soon coming to Arcade machines and it sounds really awesome. Sadly, as we're talking about arcades, that one is Japan-only and will most likely stay there. There is however one more Theatrhytm game that has not seen a Western release yet, even though it is out on a very popular platform. Square Enix, if you're reading this, I implore you. The world needs more Theatrhythm. And I know I certainly need this: