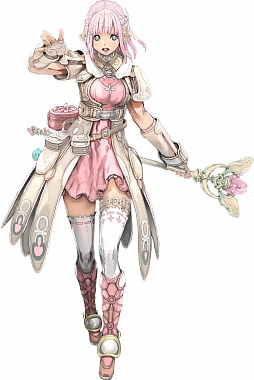 During an interview on
4Gamer
, Producer Shuichi Kobayashi and Director Hiroshi Ogawa of Star Ocean: Integrity and Faithlessness mentioned how the character Miki Sauvester will be showing a little less skin in the western release than originally shown in the Japanese version.
Miki originally used to wear more "normal-looking" panties under her short dress but Kobayasi mentioned that they received feedback from abroad that it was inappropriate for a teen to be wearing "sexualized underwear". To combat this, they added more fabric onto her model turning the underwear into shorts. Director Hiroshi Ogawa had laughed and said that making the change was "regrettable."
Surprisingly, the character Fiore will have her checkered outfit untouched.
Dualshockers
elaborated on her design with the Character designer "Akiman":
"... the idea for her costume came up by chance, as in the series it has always been considered all right to design sexy outfit. Yet, in the industry there have been recent issues about revealing clothes, causing developers to have to make fixes at later stages of development. That's why he purposely designed Fiore's costume to be sexy, but still not showing too much skin."
Take a look yourselves. If you're not keen on seeing butts, ignore this spoiler!


Before:



After

What are you thoughts on changes to characters like this?