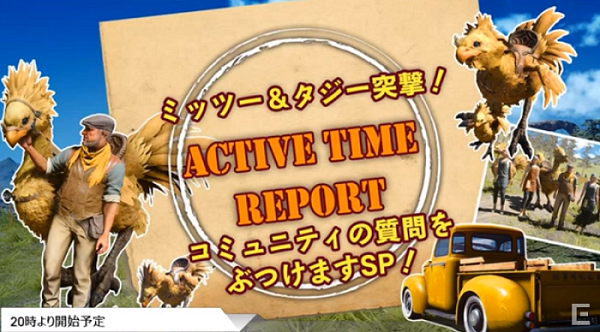 Another Active Time Report was today with oodles of new information regarding
Final Fantasy XV
. We got more info about the Theatrical Movie Final Fantasy: Kingsglaive, a hint at the next episode of the anime companion, Brotherhood: Final Fantasy XV, and some details about Final Fantasy XV itself! Thanks to
Siliconera
for the translating info presented in this report!
There won't be any climbing actions in Final Fantasy XV.
There will be as skill tree, and a system to learn abilities.
The second episode of Brotherhood: Final Fantasy XV will release sometime around the time of E3 2016.
There won't be a gallery mode, but it's being considered for a post-release addition.
While we haven't seen him in recent trailers, the hooded character shown in trailers is still in the game.
Some mentioned that the graphics looked worse in the Platinum Demo compared to Episode Duscae. Tabata says to please wait until E3 about that.
The car stereo will have Final Fantasy music, but there won't be a way to play your favorite (that are not from Final Fantasy or other Square Enix games) songs due to copyright issues; however that is something they're currently looking into.
You'll get to save in other places other than camps.
You'll also get to fast-travel to the previous area you rested at.
If you don't land the flying car right, it'll result in a game over screen.
Noctis is 20-years-old, Ignis 22-years-old, Gladiolus 23-years-old, Prompto 20-years-old.
Noctis drinks the Ebony coffee in Brotherhood but we've known that he doesn't like it in Duscae. According to Tabata, he doesn't like it personally, but forces himself to do it. Think of it as a young person trying to look cool.
More on the subject of "Ebony," in addition to it coming from the name of the engine, it also means "pitch black" which is the color theme of Final Fantasy XV. This dates back to the Fabula Nova Crystallis Final Fantasy days and its connection to Final Fantasy XIII, which has a theme of white and they also called its engine "White."
Justice Monsters V has had over 100,000 people register for the game.
The next Active Time Report, dubbed the "Day 0 Edition" will take place a day before the start of E3 2016.
Thoughts on all this new information? What do you think about the character's ages?
Final Fantasy XV comes out September 30th, 2016 for Xbox One and Playstation 4.