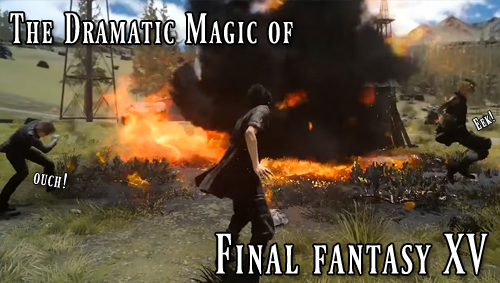 In the recent
Final Fantasy XV Active Time Report
we learned more about the magic system. All the way
back in 2014
we learned that the weather system will affect the spells we cast and it was
just mentioned in the Jump article
last week. We got more details and some footage of this in the new ATR.
There is going to be a focus on fewer spells in this Final Fantasy entry, they are going for quality over quantity. The spells they focused on in this active time report were: Fire, Thunder, and Blizzard. Our first look was with the spell Fire. In the ATR, we witnessed Noctis cast fire on a shed surrounded by tall grass. The fire takes over a large area, shed included, and then starts spreading out, catching more grass on fire. The game engine detects if any of the nearby environment is flammable and the spells affects it appropriately. Noctis and the gang reel from the heat. Director Hajime Tabata explained that spells can cause friendly damage. You'll need to be more careful when casting spells as to not hurt your party members.
As mentioned in 2014, weather will affect the potency of spells as well. Marketing Manager Akio Ofuji inquired about how a fire spell would react in a raining situation. Tabata explained further that it wouldn't spread and wouldn't be as dangerous in that situation due to the weather conditions. They went on to explain more about the spell reactions when environmental conditions are different such as when it's raining, thunder will be more potent and that if there's water in the area, blizzard will freeze that watery surface. Spells can also affect the actual environment for long periods of time after you cast it. So the black scorched earth will remain so for a long period of time but eventually a "strange force" will cause it to go back to its original state.
Magic itself is connected to the power of the Astrals, such as Ramuh that we saw in the
Final Fantasy XV Episode Duscae
demo. The lore involved with the magic is that there are natural energies in the world and you'll be able to use that energy to cast spells. In the gameplay, magic is a type of item, in a sense. It's an element and the energy you can gather in the world is used to create the elemental item. It's stored into your inventory as any other usable item would be. It can also be equipped to a weapon in battle.
Outside of the natural elements; that allow you to use fire, thunder, and blizzard; there will be another type of magic known as Ring Magic. Those spells can only be used by the bearer of the royal ring of Lucis, which is passed down the royal line. While the elemental magic will be available from the beginning, ring magic will only available after certain parts of the story are reached, making them plot relevant spells.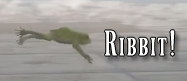 Nothing was explained on what the Ring Magic spells would be but we were advised of a spell that can affect the players via enemies: Toad! That's right, they've got a fully programmed frog you'll be able to hop about as when you're hit with this magical spell.
Don't forget that we get to see some of the fire magic in
the new character Aranea Highwind's introduction
.
What do you think of this magic system in Final Fantasy XV? Will you make Noctis a jerk and just sap all your friends constantly with magical friendly fire? Will you intentionally get yourself turned into a frog so you can experience the game in the best way possible, as a small tiny squish-able creature? These are important questions, Eyes on Final Fantasy readers!