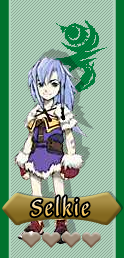 Independent people that put themselves first.

These rugged individuals clothe themselves in fur decorated with stolen goods. Unlike other tribes, they believe in putting themselves first. Many Selkies are agile and athletic, traits they put to good use as thieves. Though the other tribes tend to scorn them, some Selkie now reside in Clavatian villages.
Swish! What was that? Hey, my purse is gone! The Selkie tribes are known as mischievous and treacherous. Often outlaws, these guys are swift and powerful when it comes to a focus attack. They prefer to eat strengh increasing foods, then magical, and trailed by defense foods.