Main Characters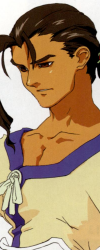 Martial Arts
Weltall, Weltall-2, Xenogears
Fei is the main character of the game, and is the leader of the party throughout. On a stormy night in the outskirts of Lahan Village only three years prior to the events of Xenogears, Fei was mysteriously delivered to Lahan and into the care of Lahan's Chief Lee. The man who left Fei behind remained a mystery, and finding out it that was became an obsession to Fei. An excellent painter, and well-respected Martial Artist, Fei's peaceful daily life changes drastically with the events that transpired during the beginning of the story. He is haunted by mysterious mental flashbacks, and the memory loss he suffered.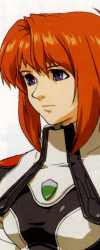 Rods
Vierge
Elly is a Solarian Gear pilot that has been assigned to help Aveh in their war against Kislev. As a spy, she steals the latest model Gear from the rival Kislev armies, but is then chased down, and forced into an emergency landing nearby the village of Lahan. She, like Fei, is eighteen years old, and plays a significant role in the games futuristic aspect. Also known as a first class citizen of Solaris and a lieutenant in the Gebler army, Elly's first appearance in the game occurs during her emergency landing on the outskirts of the village of Lahan. Her decision on what to do about Fei benefits not only them, but ultimately affects the future of the whole world. She blames only herself for what happens next...
Martial Arts, Swords
Heimdal, El-Fenrir
A resident of Lahan, Citan serves as the Village Doctor, Philosopher, and Entrepreneur. He is very well respected among his people, but is also perceived as a bit of an outcast. He enjoys tinkering and playing with assorted junk and machinery to create odd inventions. He makes his home on top of a small mountain overshadowing the village of Lahan where he runs a small medical clinic. He seems to have mysterious origins stemming from Solaris, but most of it is a mystery yet to be uncovered. He has a family that accompanies him in his mountain home, consisting of his wife Yui, and his daughter Midori.
Whips
Brigandier, El-Andavari
Bart is the leader of a group of sand pirates who proclaim themselves rulers of the desert in their powerful sand cruiser, the Yggdrasil. However, his real identity is the Crown Prince of the Fatima Dynasty of Aveh. He seems like a brash, reckless, and hot-tempered man, but actually has a warm heart. His impulsive actions, and habit of shooting anything that moves has got him, his crew and his friends in much danger many times. He is very loyal to those around him, but his actions can be somewhat misleading. He only has a single eye, seeing as he lost the second one in an engineering accident. On his journey, Bart discovers Fei and Citan, who are two of the many allies that help him on his quest to overthrow Shakhan.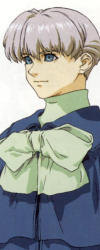 Guns
Renmazuo, El-Renmazuo
Billy's father, Jessiah, disappeared when he was only a young child. Jessiah taught Billy how to use many guns, in many different forms, but one day, Jessiah mysteriously disappeared. Not having the slightest clue as to why, Billy began to hate him. Several years later, some Wels attacked and killed his mother. He became an Etone (slayer of Reapers/Wels) to avenge his mothers death, and at the recommendation of his mentor, Bishop Stone. His younger sister, Primera lost her voice while screaming at the side of her dying mother. Billy blames himself for her disability, and devotes his daily life to raising her.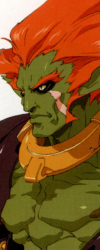 Wrestling
Stier, El-Stier
Rico is a giant demi-human who was created through disastrous biological and genetic experiments. He lived in Nortune, the imperial capital of Kislev, in D Block, also known as the prison encampment of Kislev. He is not treated like a prisoner, however, due to his phenomenal strength. He gained a wide range of fame when he became the three-time champion of the Nortune Battling Arena due to his strength.

He uses his amazingly powerful fists and hands. Strong, tough, confident and proud, Rico proves to be a formidable opponent, and more importantly ally.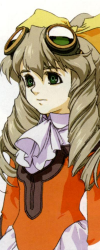 None
Seibzehn
Granddaughter of "Old Man" Balthasar, and daughter of Nikolai Balthasar, Maria and her gear, Seibzehn, serve as Shevat's defence force. When she was younger, both her and her mother were kidnapped by Solaris in a bid to blackmail her father, Nikolai, into designing the Wel-Gear hybrids for them. Seibzehn was the first model completed; Nikolai programmed it to fly to Shevat, carrying Maria within it to safety.

In hand-to-hand combat, Maria is nearly useless, having to rely on her remote control to call Seibzehn to attack her enemies. Once inside her gear though, she is a force to reckon with, nearly as powerful as the famed Xenogears.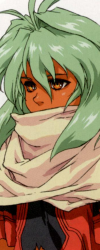 Metamorphosis
Crescens
Created during the Zeboim Era, Emeralda is a nanomachine colony, built to aid humanity in the wake of the genetic breakdown that caused infertility in most Zeboim citizens. However, Emeralda is instead put into a stasis-like state, and it is nearly four thousand years before she's discovered by the party.

Emeralda can morph her body into many deadly instruments that she uses in battle, making her a ferocious fighter. However, having spent virtually her entire life in a deactivated state, she doesn't know much about the world, and is childlike in her interactions with other people, depending heavily upon Fei.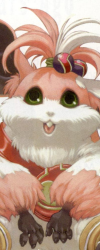 Brawling
None
Initially mistaken as a stuffed doll belonging to Marguerite, Chu-Chu is a member of a race that migrated to Shevat after the formation of Solaris drove them out of the forests they once lived in. She is infatuated with Fei, a fact that creeps him out somewhat.

Able to grow to gigantic proportions, Chu-Chu doesn't need a gear to fight, instead stomping, slapping and pounding away at enemy gears with whatever part of her body she wishes. Whilst she has no deathblows, her Forest Dance ether can actually heal Gears in battle.
Secondary Characters

Referring to himself as the "Seeker of Power," Grahf appears before Fei throughout the game, seeking his power. Though not initially apparent, Grahf's history closely interwinds with Fei's. However, Grahf doesn't often fight him directly, instead offering powers to other antagonists - power which often drives them mad.

Mentor and close friend to Bart, Sigurd has dedicated his life to protecting the last in the line of the Fatima family. He and Bart each had lost an eye upon the Yggdrasil a few years prior to the game. He always tried to keep his past a secret to his wards, as it is quite complicated; though in the course of the game, his true identity must be revealed...

Marguerite Fatima is the current Mother of Nisan, and also directly related to Bart as his cousin. Being some of the last of their lineage, she and Bart share a very close bond, and though she can be childish at times, she is able to prove herself a very strong young lady.

Shakhan is the evil figurehead of the Aveh empire, coming into power after having Bart's father killed. He was given his powers by Solaris simply so they could keep the war between Aveh and Kislev going strong, all as a means of them continuing Project Noah.

Kahran is a very high-ranking and powerful officer of the Solaris army. He seems to have a singular obsession with combatting and defeating Fei, though his exact reasoning for this remains unknown for some time. Throughout the game, he is seen challening Fei, but ultimately being defeated.

Miang is not one character, but many. She is an agent of Deus, created to shape the course of human history to make the events lead to Deus' resurrection. When one Miang dies, another one comes into existence; or rather, another adult woman is posessed by the spirit of Miang. The new Miang always retains the memories of the previous one, as well as taking on the characteristic purple hair and eyes.

Big Joe is a curious character that makes various appearances before the party at different points in the game. His unique mannerisms make him all the more strange, though his presence is appreciated late in the game when he sells some of the best available equipment.

A hooded, enigmatic figure who appears to the party throughout the game. Often giving advice to Fei, his history and ties to the game's protagonist remain a mystery for much of the story.

Hammer is a rat/human hybrid demi-human initally met in the D Block. Early on, he befriends the party, assisting them through the prison, but he becomes a turncoat when Krelian tempts him with a grand reward.

Jesse Black, or Jessiah, is a rough ex-member of the Elements of Solaris. He's also the father of Billy Lee Black. As part of their on-going feud, Bishop Stone turned Billy against his own father, completely unaware of the truth of the matter. It takes him quite some time to prove himself to Billy and the rest of the party and to get the record straight.

Random, destructive and uncontrollable, Id is Fei's secondary identity formed during his tragic experiences as a youth. Id's emergence seems to be caused by extreme distress, causing Fei's physical appearance to change, as well as the color of his Gear.

Fei's father, Khan was an agent of Shevat. He conceived Fei with a surface dweller, but because he was away so much for his duties, he was unaware of the things his wife did to his son. Khan was the one who taught Fei all that he knows about martial arts.

Emperor of Solaris, Cain has sympathy for all of those who dwell on the planet. Through a series of dummy religions and organizations on the surface, Cain was able to control the people, though he somewhat diverted from his original programmed intent of working towards solely the revival of Deus.

Krelian's intense knowledge of nanotechnology has given him a lot of power in the empire of Solaris. Though others maintain an image of power to the public, Krelian is the one who truly pulls the strings. With his power of technology and influence, Krelian seeks to resurrect Deus.