Click on the Image below to be taken to the full size Licence Board (A whopping 2378x2378 GIF file!). Further down are brief notes on the Licence Board.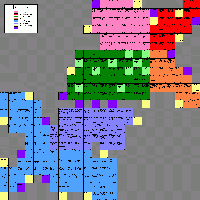 Weapons
Standard weapons (damage is mitigated by the targets defense.)
Swords (1H)
Swords (2H)
Spears
Crossbows
Piercing Weapons (Weapon damage ignores targets defense.)
Fast Weapons (Weapon damage increases with a chracters speed.)
Daggers
Ninja Swords
Bows
Magick Weapons (Weapon damage increases with a character's magick power.)
Striking Weapons (Weapon damage is erratic. Capable of massive damage, and capable of no damage.)
Magick Resist Weapons (Weapon damage is mitigated by the target's resist.)
Armor
Heavy (Increases strength, for main figthers.)
Light (Increases HP, for support roles)
Mystic (Increases magick, for mages.)
Accessories
Each character has the ability to equip one accessory at a time. Accessories provide immunity against negative statuses, constant positive status effects, and sometimes enhance or unlock abilities. Similiar to weapons and armor, you can purchase an accessory and equip it to a single character who has teh appropriate licence.
Magick
New magicks are available at magick shops and traveling merchants scattered throughout the world. There are five types of magicks. White magick focuses on healing, curative, and status restoration effects.Black magick is composed of powerful elemental attacks that may take advantage of an enemy's weakness. Green magick centers on status effects that can aid the party or hamper the enemy. Arcane magick contains a wide variety of status effects and unusual magicks with specialized uses. Time Magick is comprised of extremely useful status effects that can also aid the party or slow down enemy units.
Technicks
A technick is a unique ability that is much like a magick. However, technicks don't require the use of MP (Mist Points.) A technick is very useful when a character's MP is running low. Some of them provide excellent status attacks that lower an enemy's defense, strength, magick resistance, or magick power. "Charge" is one technick that every character should have, as it allows characters to effortlessly restore a portion of their MP in the heat of combat. It might just save teh party in a tough situation.
Augments
An augment drastically increases a character's abilities by providing passive bonuses. Once purchased, the bonus is always in effect. The effects range from additional HP (Health Points) to more Gambit slots. An augment can even enhance the effects of restorative items.
Quickenings
There are 18 Quickening spots scattered around the licence board. Quickenings unlock powerful Mist abilities that require Mist Charges, which are unique to each character. A character can unlock three Quickening spots on the licence board and any of the 18 spots will do. Each time a spot is unlocked the character gains a new and more powerful special attack. Go for the Quickening spots early in the game, as they greatly improve the party's effectiveness.
Espers
The locations of the 13 espers are hidden from view at the start of the game. The spots won't appear on the licence board until the Esper has been encountered and defeated. Only one character can unlock an Esper, which enables that person to summon the esper into battle.